A Hawkes Bay Chardonnay has been awarded Champion Wine of Show at this year's Romeo Bragato Wine Awards.  These awards are a prestigious annual competition held each year as part of the New Zealand Winegrowers Romeo Bragato Conference.  Medals and trophies are awarded to growers for viticultural excellence.  The competition recognises that growing excellent grapes is the foundation of making wines of true quality.
At a stylish dinner in the Marlborough Conference Centre, the top awards went to Phil Holden for the grapes which created the Vidal Legacy Hawkes Bay Chardonnay 2012.  This wine won the coveted Bragato Trophy and the Bill Irwin Trophy for Champion Chardonnay.  Chairman of judges Ben Glover said "the effortless class, poise and style of this exquisite wine shone through".
During the dinner, three wine industry pioneers were inducted as Fellows of New Zealand Winegrowers.  Hermann and Agnes Seifried from Seifried Estate in Nelson, and Richard Riddiford from Palliser Estate in Martinborough were all honoured with the title and recognised for making an outstanding contribution to the New Zealand grape and wine industry for many years.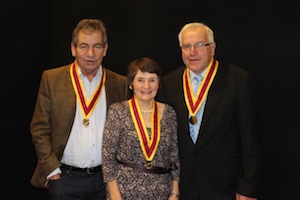 The young leaders of the wine industry were also celebrated with 27 year old Paul Robinson from Villa Maria, Hawkes Bay, announced as the winner of the Young Viticulturist of the Year.
Congratulations to all the winners.
2014 Bragato Wine Awards Trophy Results:
Champion Wine of Show and Bragato Trophy Winner
Vidal Legacy Hawkes Bay Chardonnay 2012
Keltern Vineyard – Hawkes Bay
Phil Holden
For more information see – http://www.bragato.org.nz/awards.php