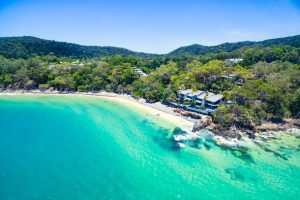 Noosa Food & Wine Festival 2017 has answered every food and wine lovers' dream with an exciting programme of events scheduled for the May celebration.
Seventy events will take place across the four-­day event, running from 18 to 21 May, and 45 visiting chefs from Australia's best restaurants will flock to the festival which will have a presence across two festival villages – Noosa Main Beach and The Woods. Noosa's top restaurants will also enjoy local collaborations as they play host to a number of visiting chefs.
More than 50 wineries and 100 food producers are taking part and 13,000 tickets are currently on sale across a range of events, with more than 40 percent of the tickets priced at less than $40.
Festival Director, Maria Crews, says this year's festival is shaping up to be the best one yet.
"We are thrilled to announce our jam-­packed programme of events showcasing the breadth and depth of Australia's best chefs, winemakers and producers. The festival is a mixture of fun, relaxation and pure enjoyment as well as good food and wine – all in one iconic destination, Noosa.
"Visitors will be spoilt for choice with each event we have on offer – there is something for everyone, every tastebud will be tantalised!"
Located on Noosa Main Beach, the Beach Tipis will play host to the opening and closing cocktail parties, as well as a plethora of other events, including early morning yoga, brunch and lunch in the tipis. There will also be a pop-­up Stokehouse on the Beach, with teams from both Melbourne and Brisbane heading north to whip up a culinary dining experience under the stars.
Sound of White presents The French Saloon on the beach will encompass the perfect evening of fine dining, with a fun and lively ambience. Ian Curley and his team will create a pop-­up of their 1 hat restaurant in Melbourne, French Saloon. Dinner will be elegantly matched with wines from the Sound of White Vineyard in Marlborough, New Zealand. All-­time favourite, Noosa's iconic Hasting Street will become a bustling lunch-­lover's dream.