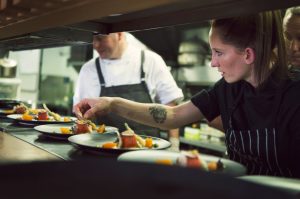 Leading Kiwi chefs and food personalities will travel to Japan this spring to celebrate the fifth anniversary of the annual Ōra King Awards.
The announcement was made at an exclusive industry event held at Cocoro restaurant in Auckland. The Japanese themed launch event was catered for by the young, talented chefs who took part in this year's Ōra King Next Generation mentoring programme*.
One of the most prestigious culinary highlights on the professional chef's calendar, the Ōra King Awards (The Ōra's) recognises outstanding contributions from chefs working with Ōra King salmon, New Zealand King Salmon's premium foodservice brand.
Japan's multi-faceted food culture
UNESCO recently added Japanese cuisine – known in Japan as washoku – to its Intangible Cultural Heritage list. This puts it equal to French cuisine, the only other national culinary tradition to be so honoured. A journey around Japan is said to reveal the wisdom of Unesco's decision: every corner of the country boasts something unique and special to eat or drink.
With increasing numbers of NZ-based chefs taking inspiration from Japanese cuisine, and Ōra King salmon steadily gaining popularity in Japan, Ōra King has chosen to celebrate its fifth annual awards ceremony in the country that is famous for its discerning eye for quality seafood.
Judge Lauraine Jacobs, along with fellow Judge Geoff Scott, will accompany four lucky chefs from New Zealand, and four chefs from North America and Australia, to Japan. They will embark upon a true Chef's Tour; an off the tourist trail journey exploring Japanese food culture and cuisine, visiting some of Japan's most prominent restaurants and artisan producers. The highlight of the trip will be The Ōra's ceremony in Tokyo.
The four chefs from each country are yet to be decided as Ōra King will take the three Best Ōra King Dish finalists in addition to an Ōra King Ambassador from each country. Entries for the Best Ōra King Dish New Zealand award are now open.
Ōra King is encouraging chefs across the country to enter and New Zealand King Salmon GM Marketing Jemma McCowan hopes the trip will inspire local talent and shine a light on the rich affiliation between both countries.
"When it comes to cuisine, Japan's ancient food traditions are an inspiration to our relatively new, but evolving culinary scene in New Zealand. Since our launch in 2011, we've seen strong growth of Ōra King salmon in Japan's high end foodservice category and look forward to giving our best chefs a money can't buy experience in one of the most fascinating and multifaceted food cultures in the world".
New to 2017, chefs from around the world are required to create their Best Ōra King dish with a Japanese twist. 'Japanese twist' is entirely down to the chef's interpretation and it may be expressed through ingredients, techniques, presentation or simply inspiration. As ever, the chef has creative license.
This year the Best Ōra King Dish award category has been expanded to include the Japanese market. The Ōra's see chefs from New Zealand and around the world compete for one of six coveted titles. The full list of awards are:
Best Ōra King Ambassador New Zealand
Best Ōra King Ambassador International
Best Ōra King Dish New Zealand
Best Ōra King Dish Australia
Best Ōra King Dish North America
Best Ora King Dish Japan
McCowan comments on her admiration for the quality of work entered year-on-year. "Every year I'm blown away by the creativity and innovation from our nation's chefs. In New Zealand, we're blessed with a mix of cultures in a relatively young country, and these two elements give us a freedom of expression combined with great local ingredients to make our food scene world-class.
"Our chefs love competition and The Ōra's provide a platform to showcase their creativity, craftsmanship and expertise. It's a process and experience that embodies innovation and last year our judges were impressed with the increase in entries from younger chefs."
Call for entries for the 2017 Ōra King Awards open 7 June (today), and will remain open until 31 July.Chefs are required to submit their entry via a short online form at orakingsalmon.co.nz/oras, which captures information about the dish, such as the chef's inspiration and techniques used, along with the requirement to submit an accompanying image. The information provided by the chef at this stage is used for initial judging to determine the semi-finalists.
Veteran food writer Lauraine Jacobs and respected chef and restaurateur Geoff Scott will travel the country, from 21 August – 10 September to judge the semi-finalist dishes, on the following set criteria:
Dish composition
Taste
Execution and technique
X Factor
Finalist chefs invited to Japan will be announced on 18 September.
The awards winners will be named in Japan on 17 October.