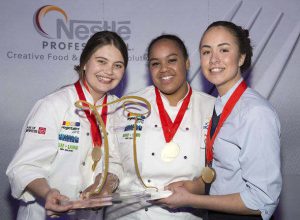 A team from the Universal College of Learning (UCOL) has taken out the top award in the prestigious annual Nestlé Toque d'Or student culinary competition.
Culinary students Kate Bryant and Keziah O'Connor proved to be champs in the kitchen, while restaurant service competitor Summer Dennison dazzled diners.
Kate and Keziah battled it out against 20 other top culinary students from around the country to create their award-winning three course menu which comprised a starter of sous vide and smoked Akaroa salmon with pickled New Zealand vegetables, followed by a main of roasted New Zealand beef sirloin with a beef brisket and kumara strudel, spinach, carrots, turnips and a caramelised shallot jus. The menu concluded with a white chocolate mousse and poached pears dessert. Out front, Summer served up the dishes to special guests dining at the event.
The pressure was on throughout the three hours live kitchen cook off, as the team fought against the clock and scrutiny of top industry judges including world renowned chef Gert Klotzke of Sweden. Any slip up by competitors was duly noted by the judges and marked as lost points.
The panel of judges was led by high profile chef and leading culinary figure Darren Wright. Competing teams were marked against WorldChefs International Judging Standards, which include food preparation, presentation, taste and service.
This is the first time that the top award has gone to Palmerston North. Keziah said she and her team mates were thrilled to have won the competition, after training so hard for the event.
"We put in months of hard work to get ready for the competition. At the same time, we had to juggle work, study and personal commitments. However, the sacrifice was worth it on the day, when our team performed seamlessly creating and delivering an award winning menu and service."
UCOL Chef Lecturer Mark Smith – who was the team's manager – said bringing home the top award was a triumph for the students, UCOL and Palmerston North. "It's clear proof that Palmerston North is now a centre for excellence, in terms of hospitality talent. Achieving top ranking at such a prestigious competition as Nestlé Toque d'Or is a significant achievement. It's testimony to the dedication and commitment of the team and their drive to succeed. For these students and others who follow in their footsteps at UCOL, rewarding careers within the hospitality are now firmly within grasp," he said.