The Pantry joins The Kitchen café – online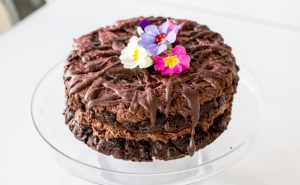 For Nelson foodies Grant and Sherilyn Maxwell food is a medicine and they're passionate about educating people on whole foods and health.
Less than a year after launching their highly successful Nelson wholefoods café, The Kitchen, Grant and Sherilyn Maxwell are about to beef up their online food and wholesale concept, The Pantry.
They're already running food education and cooking classes, after collaborating with a Nelson doctor and a local gym to form health education platform – Empower Health Nelson. General practitioner Dr Cindy Devilliers aims to treat the cause of illness, rather than the symptoms, so fits perfectly with their ethos, says Grant. The Maxwell's philosophy is to not only feed people well, but to educate them about how to do it themselves.
"We're now focusing more on selling ready-to-eat foods online," says Grant. "We've got a cold pressed juicer – the only one in Nelson – so we can create heavily vegetable-based juices that are low in sugar."
Everything on the menu, both online and in their 80-seater Kitchen café is gluten, wheat, dairy and refined sugar free. It's labour intensive work, but Grant says it's been heaven for people with food intolerances. "For others it's been a real discovery," he says. "People realise you can enjoy delicious foods without those ingredients. You don't have to eat gluten free rock cakes."
While there are plenty of vegan and vegetarian options, free range meat is definitely not a no no. The Paleo Burger, served with kumara fries, all cooked in coconut oil, salmon, bacon and beef dishes also star on the menu.
The recipe for The Kitchen's popular Paleo roll, made from a secret mix of gluten free flours and seeds, is under lock and key, with local bread makers even trying to second guess its contents.
"We use lots of fermented foods, like sauerkraut and kombucha, and make coconut our yoghurts – all with help from local winemakers and craft beer brewers, Renegade Ferments," says Grant. "Their kombucha is made from incredible thick scobies and has a huge range of probiotics in it."
Raw vegan cheesecakes like blueberry and cacao, and the beautifully-presented cacao and quinoa cake have proved hugely popular.
It's important to cold press juices to retain the nutrients, says Grant, and the Maxwells are launching this line, along with other wholesale food products soon. Condiments like sauces, chutneys, jams and pestos and dry goods like fruit bars will follow.
With demand from Christchurch on the rise, the Maxwells are looking to expand their business to the Garden City by the end of next year. For further information visit https://ktchn.co.nz/collections/all.
.