Former head chef at Kauri cliffs in Northland, and at SkyCity in Auckland, Paul Jobin and his wife Lyndsay head south to run the exclusive luxury lodge Annandale Coastal Farm Retreat.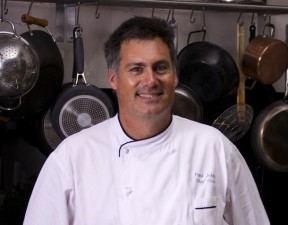 Chef Paul Jobin is leaving The Riverhead Tavern and moving south. He and his wife Lyndsay are set to take up the position as management couple with the Annandale Coastal Farm Retreat & Luxury Villas on Banks Peninsula, starting at the end of August.
Paul and Lyndsay both worked for SkyCity. Lyndsay as Food & Beverage Events and Sales and she will take the role as general manager at Annandale, while Paul takes up head chef and guest services duties.
Former Government House gardeners will plan and assist Paul with the seasonal vegetable and herb gardens which will supply the coastal villas, homestead, stables and cooking school on this 1600 hectare working farm in Pigeon Bay. www.annandale.com.