Three of the 30 chefs selected to showcase their creative flair for the start of the duck season, launched the Cloudy Bay iconic Pinot & Duck Tasting Trail this month at a special function in Freeman's Bay.
Their task was to develop a dish that complemented the Cloudy Bay Pinot Noir 2014, or the Te Whai Central Otago Pinot Noir 2014, which now feature at their restaurants for the month of May. Wine and food enthusiasts will be able to purchase each bespoke pairing for a set price from some of New Zealand's finest eateries.
"Cloudy Bay Pinot Noir and duck have long been recognised as the perfect pairing and we are thrilled to announce we are embarking on our biggest ever Cloudy Bay Pinot & Duck Tasting Trail ," says Ali Campbell, Cloudy Bay Senior Brand Manager.
This year's tasting trail is set to be the biggest and most exciting yet with over 30 renowned chefs participating nationwide, giving more patrons than ever the chance to enjoy the food and wine match that seldom disappoints.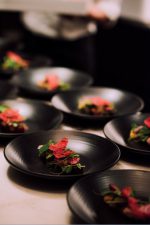 "The well balanced and delicate palate of the Pinot pairs perfectly with a game as rich as duck," says Jim White, Cloudy Bay's Head Viticulturist.
"The complex layers of each Pinot Noir vintage offers a bright acidity, bold enough to cut through the meat's earthy flavour. "Each Cloudy Bay Pinot Noir vintage is unique and scarce, representing the rare natural climate of our Marlborough and Central Otago regions," adds White. The Cloudy Bay Pinot & Duck Tasting Trail will run until May 31.
In addition to the month long tasting trail, Cloudy Bay is extending the experience with two exclusive degustation dinners hosted by Jim White. Patrons will have the opportunity to purchase tickets and dine at Auckland's Oyster&Chop and Christchurch's Baretta where they will enjoy a range of duck cuisine paired to Cloudy Bay wines and hear from Jim White about the food and wine match.