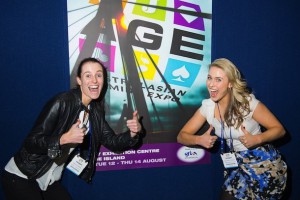 Every year for the last four years, 3 lucky visitors to the Australasian Gaming Expo have won a trip for two to Las Vegas, the home of gaming and the Global Gaming Expo.  The prize draws are held each day from the names of people who have registered and attended the AGE.
Last year Annie Johnson heard her name being paged while she was at the AGE, "to go to the Exhibitors Help Desk". When she arrived she was surprised to learn that she was the Thursday winner of a trip for two to Las Vegas along with 5 nights accommodation.
The 2013 pilgrimage to the AGE was a family affair with Annie's sister Katherine and parents Maryanne and Clive Johnson, who is the publican of the Prince Alfred Hotel in Booval Queensland, all in attendance.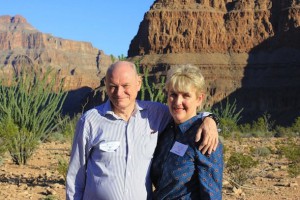 But the big surprise was for Annie's parents Clive and Maryanne, because Annie decided to give them the prize.
And although it was their second trip to Vegas, Clive and Maryanne still found Vegas just as much fun as ever with plenty of things to do.
They spent two days at the Global Gaming Expo which was within walking distance of their hotel.
Maryanne said of the show:  "It was really exciting especially with the conference and so many different gaming machines and different bases and different type of wagering machines that we don't see in Australia."
They also treated themselves to a helicopter ride and champagne breakfast at the Grand Canyon and visited several Casinos including Caesars Palace, New York New York, Palazzo, Venetian, Paris, and Wynn. While they were there they were able to get tickets to the Cirque du Soleil show at the Bellagio which is described in the promotional material as "An aquatic masterpiece of surrealism and theatrical romance".
And of course there was the quality and quantity of the food from all the Casino restaurants which featured cuisines from all around the world.
Maryanne also found time to visit the local Factory Outlet store and stock up on good quality American clothing which is a fraction of the price that we pay for clothes here in Australia.
The Vegas prize draw will be held again at this year's AGE.  To be in the draw, all you have to do is register and turn up at the Expo between the 12th and 14th of August.
More information and Visitor registration are available online at www.austgamingexpo.com