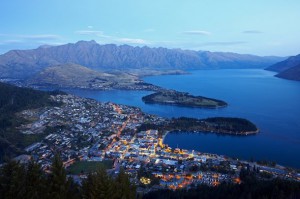 The Ministry of Business, Innovation and Employment (MBIE) has released its annual Regional Tourism Estimates showing Queenstown is the number one regional centre in New Zealand for international visitor expenditure, making up 14% of all international spend.
Second only to Auckland in international visitor spend, Queenstown recorded a 10.4% increase to $1.011B, up from $916M last year. Total visitor expenditure for the region reached a new record of $1.370B, up from $1.253B in 2013, growth of 9.3% – well above the national average of 5.6%. Domestic visitor expenditure in Queenstown also grew, up 6.5% from $337M to $359M and ahead of the national average of 3.3% growth.
The results represent two years of strong growth in both international and domestic expenditure. International figures rose 10% and 10.4% respectively in 2013 and 2014 and domestic expenditure rose 7.3% in 2013 and 6.5% in 2014. Queenstown's strong international visitor expenditure reflects a split of 74% from international visitors and 26% from domestic visitors to the resort.
Destination Queenstown CEO Graham Budd said he was delighted with the growth in visitor expenditure and it illustrated Queenstown's important role in delivering the international visitor experience in New Zealand.
"Queenstown takes its responsibility to be great hosts very seriously and visitor satisfaction is our absolute priority. I believe this continuing growth is testament to our businesses and community being very focused on providing world-class accommodation, activities, food and hospitality with visitor enjoyment and safety top of mind. The opportunities for Queenstown lie in maintaining value growth ahead of visitor numbers in the international market and also achieving more overall growth from our domestic market.
"The outlook for Queenstown is currently very favourable, even since this data was recorded we have experienced more growth and we expect to see that positive trend continue over the year ahead," said Mr Budd.
All bar one of Queenstown's top seven international markets grew in expenditure value in 2014.
Queenstown's largest international market, Australia, grew 1.3% to represent 38% of international visitor expenditure, whilst China grew 44% to become our second largest market at 15% of total international visitor expenditure.  USA expenditure was up 54%, making up 10% of the expenditure  and the UK market grew by 6% to represent a total of 7% of the market.