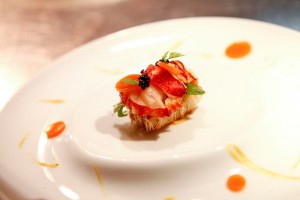 Malaysia is world famous for its fabulous "hawker" food, which you can buy anywhere at any time. But if you like your grub to be a bit fancier, there's also a bewildering range of fine-dining, European and high-end Asian cooking going on all over the country. Now into its 15th year, the annual Malaysia International Gourmet Festival encourages Malaysia's top chefs to produce their most creative and tasty menus, culminating in awards in a large number of categories. Best of all, it's a great way to find out what's hot in gourmet cuisine in Malaysia right now. The event ran throughout October and the awards ceremony was held in November: now it's time to put the best of the best eating establishments on your holiday itinerary.
This year, many but not all of the best restaurants and dishes hailed from Kuala Lumpur but there are culinary treasures to be found everywhere – if you know where to go. The supreme award – the Golden Cauldron for the Best All-round Restaurant – went to Cuisine Gourmet by Nathalie, a smart establishment in KL's city centre where chef Nathalie Arbefeuille creates dishes she describes as "modern French". Her winning menu included such delights as tuna tataki with sugar snap peas and black olive dust; warm Brittany blue lobster with celeriac heart in crispy kadaif and green apple chutney; slow-cooked French hake with a chorizo crust, boadbean puree and parmesan cheese emulsion; and white and gold chocolate sphere with mango and passionfruit delight and preserved lemon espuma. Her notoriously good macarons were also on the menu.
The other finalists in this coveted category were La Scala, Marini's on 57, Tanzini, Ten Japanese Fine Dining and The Olive, all situated in KL. Cuisine Gourmet by Nathalie also won the sole award for Most Popular Overall Restaurant at the VIP Gala Launch and was a co-winner in the Best Festival Offers, Most Creative Menu of the Festival, Most Creative Food Presentation, Most Innovative Cuisine, Most Outstanding Canapés, Most Outstanding Mains – Meat, Most Outstanding Dessert, Most Outstanding Wine Pairing.