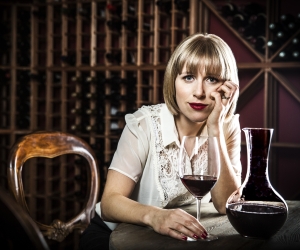 It's considered the highest achievement in the world of wine and an Auckland-based wine writer has made the grade to become New Zealand's youngest Master of Wine.
Rebecca Gibb joined the wine world's elite last week: there are just 340 people in the world that are entitled to call themselves Masters of Wine. Her success brings the tally of New Zealand Masters of Wine to 11. Other Masters include Kumeu River winemaker Michael Brajkovich and wine writer Bob Campbell.
The Master of Wine Examination is notoriously difficult with few making it past all three stages of the course, which include five theory exams, three blind tasting tests and a final Research Paper.
It is the most prestigious qualification for members of the international wine trade, along with the Master Sommelier course.
Rebecca, a former winner of the UK's young wine writer of the year and the Louis Roederer emerging wine writer of the year, said: "I'm delighted to have succeeded. It is considered to be the Everest of the wine world and I'm enjoying the view from the top."
British-born, Rebecca has lived in New Zealand for more than five years. She currently works for Hong Kong-based fine wine magazine LE PAN, having previously spent three years editing the content of the world's most popular wine search engine, Wine Searcher, which is based in New Lynn.
She will travel to London in November for the graduation ceremony.