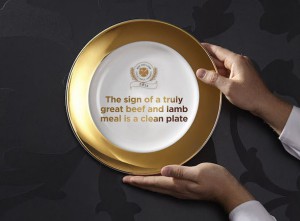 The assessment period for the nation's longest running culinary awards is now underway. The New Zealand Beef and Lamb Excellence Awards has restaurants fine tuning their top beef and lamb dishes in the hopes of achieving the gold plate for 2015.
Culinary trained experts will be assessing what is shaping up to be a record number of applicants this year from across the country.
The New Zealand Beef and Lamb Excellence Awards were founded on acknowledging the skill, expertise and exceptional talent of chefs who deliver the finest exhibitions of New Zealand's beef and lamb. Beef + Lamb New Zealand Food service Manager, Lisa Moloney, says this year has seen a great balance of both new and longstanding holders apply for the highly regarded award.
"The 'call for entry' period is always an exciting time at Beef + Lamb New Zealand, with
applications arriving on my desk every day. It's so interesting to see who the new restaurants are and to see their interpretation of an award-winning beef and lamb dish on their menu descriptions, along with the longstanding holders who are aiming for another gold plate to add to their collection," says Moloney.
The Excellence Awards give new and long time holders credibility and a point of difference through increased publicity, loyal following and by promoting chefs to up-skill and grow.
Key areas assessors will be looking for include presentation and composition, taste, preparation and cooking and the dish's overall appeal.
Diners will be able to locate Beef and Lamb Excellence Awards restaurants easily, by looking for the gold-rimmed presentation plate and window stickers. They can also find the current 2014 Award winning restaurants on nzexcellenceawards.co.nz
Results will be announced mid-January, 2015.