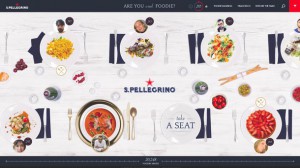 The Italian sparkling mineral water – synonymous with fine food, fine experiences and togetherness – has launched its latest international project "Are you a real foodie?", the largest digital table ever made.
Food enthusiasts around the world are invited to "take a seat" alongside other members of the online community, including world renound chefs, and bring their best dishes to the table.
By registering on www.sanpellegrino.com, the gourmands will have the opportunity to join this incredible community, describing their own signature dishes, uploading pictures and sharing their recipes.
Once "seated", foodies will be able to freely explore the infinite table, browse through one anothers' profiles, like and share content uploaded by users from all around the world.
Every new dining companion joining the table makes it grow longer and a measuring tape at the bottom of the page shows its length in real time. Hour after hour, day after day, new real foodie after new real foodie, the infinite table will become really "infinite", with tens of thousands, hundreds of thousands, or maybe even one million of tablemates: never underestimate the power of food passion!
In addition, foodies have the opportunity to sit next to some of the most famous international chefs. The most interactive foodies will alo gain the opportunity to access more exclusive content related to these chefs, such as tips of how to taste food like a real connoisseur, special confessions, extra recipes and more.
The most renowned chefs in the world are joining the Are You A Real Foodie community: among them Sven Elverfeld (3 Michelin stars), Enrico e Roberto Cerea (3 Michelin stars), Daniel Humm (3 Michelin stars), Annie Féolde (first 3 starred female chef in Italy), Diego Munoz (number 1 in Latin America 50 Best Restaurants) and Mauro Colagreco (2 Michelin stars).
Are You A Real Foodie is now live and has been developed in four languages – English, French, Italian and German. 
To celebrate the international project, a Special Edition bottle dedicated to Are You A Real Foodie has been created,which will be available in selected retailers for a limited time from November.