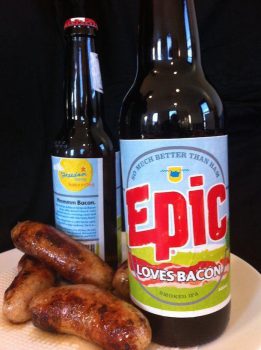 At the Beervana craft beer festival in Wellington on 22 and 23 August, patrons at the Epic Brewing Company stand will be able to try sausages made with Epic beer and a new Epic beer which is bacon flavoured.  Sausages and beer are natural companions, as is bacon and beer and, indeed, bacon and sausages, so it is almost surprising the combination has not been thought of before.
The sausages are made by Freedom Farms, the first producer of SPCA-approved bacon in New Zealand.  They are now proud to introduce what they have described as "the sausage of all sausages" or the "beerst sausage ever" – a limited edition Freedom Farm sausage made with tasty Epic beer.
Details of the bacon beer are still closely guarded but the name is likely to be Epic Loves Bacon.  It will certainly test the tastebuds of thirsty festival goers.  Freedom Farms will be supplying the bacon for the mysterious new brew.
Gregor Fyfe of Freedom Farms says: "Everyone loves a good old banger on the barbeque, but at a craft beer festival, what better food is there to serve to hungry patrons than a free range sausage made with real beer?  This crafty combination is a complete first for us but we're sure our happy sausages will go down a treat at the Epic Beer stand at Beervana.  The people at Epic will be serving the perfect pint alongside the beer sausages – a Freedom Farms bacon flavoured beer – what more could you want?"