When 27-year-old Massey University chemical bioprocess engineering student, Nelson Harper, first noticed massive food waste while passing by loaded fruit trees in his neighbourhood, he came up with a really good business idea.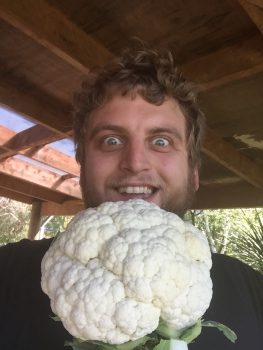 A young man with a background in horticulture, who has been passionate about reducing and minimising waste, Nelson had a great idea about how Kiwis could save money, the planet and food waste, all in one go.
That idea, now called Urban Orchards, has morphed into a new social enterprise and small business which kicked off online earlier this month.
"At the moment we drive past fruit trees laden with fresh fruit, much of which ends up rotting on the ground, and home gardeners have so many surplus vegetables and herbs that they end up giving them away," says Nelson.
"People drive to the supermarket where they pay $6 a kilo for the likes of lemons, which grow prolifically, and they're rotting on the ground down the road," he says.
"We've created an Airbnb, Trade Me-style system enabling people who sign up to Urban Orchards to sell their excess produce which they can leave at the gate or doorstep to be picked up, or drop off to purchasers. They set the price and in many cases they may just want to give it away to our members."
Nelson and his team, including computer science students from Massey and a marketing student from the University of Canterbury, already have a great relationship with their local food banks and Massey University, ensuring nobody, students included, go hungry. Urban Orchards will also provide an avenue for produce to be donated to the likes of these organisations free of charge.
When Nelson first came up with the idea he'd been doing a bit of gardening for people to help support his studies. "I noticed so much passionfruit, so many chokos, massive amounts of lemons, feijoas and the likes," says Nelson. "A productive lemon tree may have up to 50 kilos of fruit if it's a good one, or 10 to 20 if it's smaller."
There's already been strong interest from initial restaurants and cafes contacted in the Manawatu and Wellington regions interested in getting involved. Nelson's expecting interest to be huge with the site operating nationally in local areas from this month. "One Thai restaurateur has already told me he goes through 10 kilos of lemons a week and he's keen to sign up."
The plan is not only to reduce food wastage, but increase food security, and most importantly localise fresh food by taking advantage of all of the great produce grown in people's backyards. "It's a niche market but there's already been a great deal of interest from both growers and buyers," says Nelson. "We're just providing an online platform to connect growers and buyers of fresh produce, tapping into these loaded backyard fruit trees and small scale vegetable gardens.


See: www.UrbanOrchards.co.nz to sign up.