More than just a purple berry, Açaí (pronounced AH-SIGH-EE) is thought to be the most powerful food in the Amazon. Wild harvested by hand from the Rainforest's palm trees, this nutritional powerhouse has long been a staple of indigenous diets. It provides a powerful punch of antioxidants and is packed full of healthy omegas 3,6 and 9. Naturally gluten free, dairy free and vegan, Açaí caters for many customer markets, making it the perfect addition to your menu.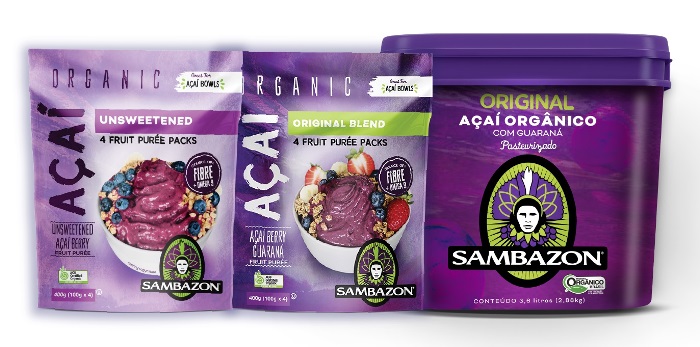 Use Sambazon frozen Açaí packs to make seriously delicious smoothies or blend with your choice of fruit, coconut water or milk to make Rio-style Açaí bowls. No blender? No problem. Thanks to our newest 3.6L Frozen Scoopable Açaí tub, making perfect Açaí bowls is as simple as scoop, top and serve.
With a smooth taste somewhere between mixed berries, dark chocolate and red wine, your customers won't believe healthy tastes this good! Not only can your customers treat themselves to a deliciously guilt-free Açaí smoothie or bowl, they can also feel good knowing they're helping the Amazon and it's people while nourishing their own body each time they purchase a Sambazon product.
As the first 3rd party certified Fair Trade Açaí company, Sambazon is leading the charge when it comes to protecting the incredible Amazon biodiversity. Our Açaí is Certified Organic and Fair Trade – just the way nature intended it -and will always stay that way. Our commitment to building a sustainable supply chain means we can oversee every step of its journey, from the moment it is hand-harvested and transported by riverboats, to its inspection (by hand) and environmentally responsible processing. It's our guarantee to you: From the palm of the tree to the palm of your hand.
To discover the delicious powers of Sambazon Açaí, and to be into win free Açaí,* visit Sambazon NZ's agent's website  www.markwellfoods.co.nz/be-in-to-win-with-sambazon-acai/ or contact us at marketing@markwellfoods.co.nz or 09 270 3311.