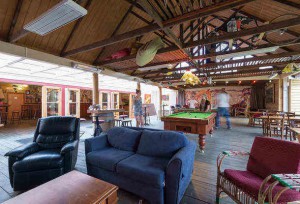 The only tavern in the historic Bay or Islands township of Russell – The Duke of Marlborough Tavern – has been put on the market for sale.
The Duke of Marlborough Tavern is a 'locals' bar  revamped some five years ago  to create a venue with bit of Ponsonby Road type flair and panache – bringing in quite a few design and interior decor elements, while still retaining a down-to-earth feel.
The Duke of Marlborough Tavern business, lease and assets are being sold by negotiation  through Bayleys Real Estate. Bayleys business broker Chester Rendell said that over the past five years, the Tavern's owners had developed an extensive marketing calendar for the business – which had not only sustained turnover during the quieter winter months, but had also substantially grown revenues over an already well patronised summer season.
"Their approach to marketing is very smart, and has been designed to offer something different to multiple niche sections of not only the local community, but acting as a tourism magnet attracting Aucklanders up for the weekend," Mr Rendell said.
"The Duke of Marlborough Tavern is now an active supporter of everything from of The Country Rock Music Festival in May, the Jazz and Blues Music Festival and Hot Rod Show in August, the Birdman flying tournament in July, two fishing tournaments in March, the Bay of Islands Walking Weekend in October, The Russell Downhill Trolley Derby in March, the Russell Santa Parade in December, an outdoor cinema showing classic movies throughout summer, and the Miss Russell beauty pageant in January.
"The business benefits from sitting adjacent to a large car parking amenity immediately outside its front door. This allows for many of the community events – such as the display of hot rod cars or the Santa parade floats – to be parked on show so patrons can wander around, then pop into the Tavern for a bite to eat afterward."
Mr Rendell said the modern décor of the Tavern meant the venue was also well-utilised for a number of functions throughout the year – such as weddings, family celebrations, and community events. Hireage of the Duke of Marlborough Tavern was a cost-effective alternative to some of the more high-end lodge and hotel facilities operating in Russell which were limited to a serving smaller number of function guests simultaneously.
"This is where the Tavern's 'three zone' approach comes to the fore – with clients offered a choice in the style of setting for their function, and the ability to upscale seating and serving configurations according to guest numbers," Mr Rendell said. "In summer, the grassed lawn allows for the potential of holding functions and events under an open sided marquee."
Operating profit from the Duke of Marlborough Tavern had grown by 82 percent from the 2012/13 financial year compared to the just completed 2015 financial year.