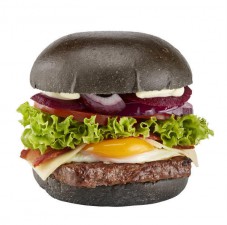 A New Zealand first, Wendy's has launched a new gourmet burger on a black brioche bun. Made from 100 percent Kiwi ingredients, the Gourmet Kiwi Classic on Black Brioche features a buttery black brioche bun developed in conjunction with local artisan bakers Pandoro.
The gold standard of hamburger buns, the French-style brioche is made by hand with real eggs and butter and features a soft rich dough and delicious moist texture.
Inside, the burger packs an all-Kiwi line-up of fresh Quality Mark sourced beef, natural cheese, free range egg, manuka smoked bacon and Watties beetroot, along with freshly cut tomato, lettuce, red onion and creamy mayo.
The first major burger chain to offer a black burger in New Zealand, Wendy's says the food grade activated charcoal used to colour the bun has no impact on the burger's taste.
"The brioche buns not only look incredible, they also have the same delicious taste profile we've come to expect from Pandoro," says Wendy's CEO Danielle Lendich.  "The activated charcoal is vegetable carbon, it's flavourless and completely safe. It's used quite a lot in food in Japan and the US.
"We think customers will enjoy the novelty of a black burger or for some fun, they can order a burger with one half of the bun black. Of course they can also stick with a standard colour brioche if that's their preference."
Looking to global culinary trends for inspiration, the black brioche is the latest in Wendy's bread innovation line-up, following other New Zealand 'firsts' such as the pretzel burger.
"We are the first Wendy's in the world to trial a black burger, but New Zealand is becoming an increasingly sophisticated burger market," says Lendich. "As a nation we're becoming more discerning, not just about what we eat but where our food comes from, and as a locally-owned family business we are proud to say that we source 99 percent of our ingredients locally."
A tongue-in-cheek campaign promoting the new burger features puns around what brands are not allowed to say when it comes to using the words "all" and "black".
Developed by Wendy's Auckland agency &Some and running across TV, billboards, bus backs and adshels, Lendich says the campaign "highlights the ridiculous debate that can happen around certain words and events."
The Gourmet Kiwi Classic on Black Brioche is available for a limited time at Wendy's 22 restaurants nationwide for $10.90. Whole fresh chicken breast option also available priced at $11.40.