In response to increased demand from travellers, Auckland Airport has increased its retail offerings with two new outlets at the international terminal.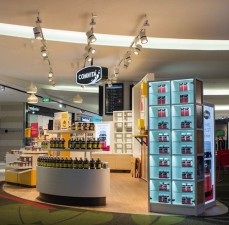 New Zealand global natural products company, Comvita, also the world's leading Manuka honey manufacturer, is targeting the Chinese traveller with its new retail kiosk, creating new consumer relationships and marking a key milestone in their global brand experience strategy.
Comvita's CEO, Brett Hewlett, says, "China represents an ever-growing opportunity for the Comvita brand. With arrivals from China now New Zealand's second largest visitor segment, the location at Auckland Airport is ideal for growing our brand awareness with that audience. It offers visitors the opportunity to take home Comvita products for use in their home country."
Comvita's Auckland Airport store is the company's third branded outlet besides its downtown Auckland concept store and its visitor experience attraction at its production facility outside of Te Puke, in the Bay of Plenty.
Mr Hewlett says, "The addition of the Auckland Airport kiosk gives the Comvita brand significant reach into the New Zealand tourism sector."
Richard Barker, Auckland Airport's general manager retail and commercial, says, "Auckland Airport is proud to support a growing number of New Zealand brands in its retail area in the international terminal."
"Comvita joins other New Zealand brands and products including Living Nature, Trilogy, Nature Baby and Icebreaker and jewellery brands Karen Walker, Boh Runga and Nick von K. We also have several Kiwi food suppliers like Shaky Isles on premise, plus art from leading artists such as Dick Frizzell and Ralph Hotere. Comvita is certainly in good company by joining us at Auckland Airport."
Also joining the expanding range of retail outlets in the international terminal is JuicyDetails, with a new and exciting kiosk offering fresh food and drinks and healthy alternatives to fast food.
The kiosk will offer travellers a choice of freshly-squeezed juices and smoothies as well as wraps and sandwiches made from fresh, local ingredients, something regular visitors have been looking for at Auckland Airport.
"Travellers often want something quick and easy to eat that is healthy too, particularly before a long overseas flight. JuicyDetails fills that niche," says Mr Barker.