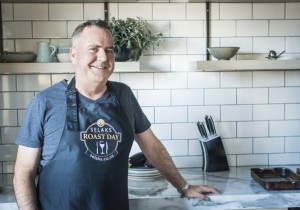 With renowned chef Simon Gault as ambassador and a new campaign theme, Selaks NZ Roast Day returns to provide dinnertime inspiration in August 2015.
The sixth annual Selaks Roast Day takes place on 2 August and focuses on 'occasions' and the role the much-loved meal can play in Kiwi homes to bring friends and family together for a roast any night of the week.
This year the celebrated chef and restaurateur takes over the reins at Selaks NZ Roast Day and there's no doubt his roast recipes will have the 'the Simon Gault five per cent magic'. "The minute the word roast is mentioned is the moment I get excited," he says. "Leftovers in a sandwich or in a salad, for any occasion a roast gets my taste buds going."
"We've gone past the days of dry, tough roasts to now where they are packed full of flavour, they're innovative, interesting and something to truly look forward to any day of the week." 
Nina Stojnic, Selaks Wines spokesperson, says it is an honour to have Simon Gault as the ambassador for Selaks NZ Roast Day 2015. "Simon is acknowledged by both his peers and foodies throughout the country as one of New Zealand's most inspirational chefs and food industry personalities. To have him supporting roast day and to be able to feature 10 of his specially developed recipes this year provides inspiration as well as real-world support for our theme of 'occasions'."
"The roast is rooted in our culinary history," Ms Stojnic says. "It's a traditional meal for bringing together family and friends not only on Sundays but also on a range of occasions.  It's a philosophy Selaks has embraced since 1934."
To bring friends and family together, and to stimulate conversation around the great Kiwi roast, Selaks is sharing Simon Gault's recipes through a social media campaign to get people roasting.
Selaks is also giving away 12 Roast Day prize packs. They contain vouchers courtesy of Rangitikei free range chicken, a bottle of Village Press olive oil, Simon Gault seasoning's and stocks, Selaks NZ Roast Day oven mitts, tea towel and apron – everything essential a roast fan might need to bring a great roast together for family and friends.
"We aim to engage with New Zealanders who love a roast meal and all the fun and family joy that goes with such an occasion, so social media activity is a critical part of the overall campaign," Ms Stojnic says.
To take advantage of the Simon Gault recipes matched with Selaks Reserve wines and to enter the draw to win Roast Day prize packs head to www.facebook.com/selakswines.