In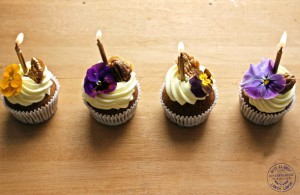 stagram is currently the fastest growing social network with over 150 million active users. Instagrams of food are the second most popular posts, and dessert takes out the number one type of food post.
Making the most out of this growing phenomenon, Miss Clawdy – Auckland's bustling Southern eatery, launched its first social currency as payment for dessert this week.
In celebration of their first birthday, from 22 – 28 September, diners can pay for the house special, Miss Clawdy's birthday cake, in the form of an Instagram post. Diners order the cake, post an Instagram photo of it, show the post to restaurant staff at the counter, and their dessert is free-of-charge.
In collaboration with cake queen, Karla Goodwin of Bluebells Cakery, bespoke birthday cupcakes have been created to embody all the rich Southern flavours and magic of Miss Clawdy. Hummingbird cupcakes with salted caramel, vanilla cream cheese icing and pecan praline will be the delectable one of a kind creation that diners can look forward to during the special Miss Clawdy birthday week celebration.
"The last 12 months have been an amazing ride for Miss Clawdy and creating a cake currency is our way to give back on our birthday and share the love with our loyal customers," says Tom Wiley, co-owner of Miss Clawdy.
Miss Clawdy's new social currency will be a first for the restaurant, allowing diners to take part in Miss Clawdy's birthday festivities by sharing the social love in exchange for some sweet birthday cake. Diners can use the hashtag #cakecurrency and tag @MissClawdynz to finalise the social payment.