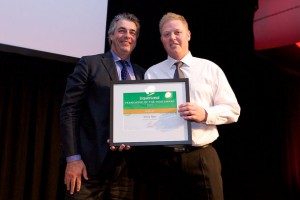 The 2014 Liquorland Franchisee of the Year Awards were announced at the National Liquorland Conference Gala Dinner event held at Novotel Twin Waters, Queensland, Australia in early September.
The Awards celebrate the success and hard work of Liquorland Franchisees around New Zealand. The Gold Winner was Chris Hart from Liquorland Leith Street, the Silver Winner was Amie Murphy from Liquorland Fitzroy, and the Bronze Winner was Leon (Fred) Fredrichberg from Liquorland Waiheke Island. The Sel Granger Memorial Award 2014 went to Joss Granger of Liquorland Howick.
Winner Chris Hart will receive an educational trip to Chicago, Nashville and Lynchburg in recognition of embracing the Liquorland customer ethos by providing their customers with an experience that reflects the unique customer base and environment that they trade in. The Silver Award winner, Amie Murphy, was congratulated for "her drive and professionalism in the search to be the best she can be."
The Bronze Franchisee of the Year Award went to Leon Fredrichberg even though he runs possibly the smallest of all Liquorland stores. His store has enjoyed an increase in customer growth and is known for offering his customers great service.
Joss Granger from Liquorland Howick took home the prestigious Sel Granger Memorial Award Cup for 2014. The Sel Granger Memorial Award is awarded to a store that emulates the same spirit, passion and determination to succeed as the late Sel Granger of Liquorland Howick.
Congratulations to all the winners.