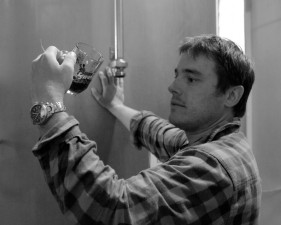 Hippy Berliner may sound like a contradiction in terms given the legacy of the words – but those who know 8 Wired brewer Soren Eriksen will hardly be surprised.
Renowned for his can-do attitude and creative beer styles, the Danish-born craftsman's aforementioned latest brew is a Berliner Weisse – or lightly soured – wheat beer that originated in northern Germany. Berliner Weisse is dry hopped with Amarillo and Citra, bringing it in at 4.5%ABV.
Hippy Berliner is coming to the taps at popular Wynyard Quarter craft brew free house 16 TUN for an exclusive June launch before hitting taps right around the country. Eriksen and his trusty American mate Brian Watts – aka the International Man of Beer – will be on hand to guide people through the tasting.
8 Wired brews are very much sought after says 16 TUN's craft beer manager Ben Hartigan. "Wireless Pale Ale, 8 Wired's previous launch at the pub sold out within the day so you'll need to get in early to enjoy Hippy Berliner."
Hippy Berliner is a cloudy sour beer style dating back to at least the 16th Century and is often mixed with pale lager to balance the sourness. Eriksen says it is a beer that most beer fans will want to try, "and even non-beer drinkers will enjoy it too I'm sure. The hoppy flavours in the beer make it much more palatable than the traditional dry, sour Beliner Weisse.
"Although the Hippy Berliner is not as dry or sour as the traditional Berliner Weisse, the syrups work really well with the flavours of the beer. Fruity is the best way to describe it; it tastes a bit like grapefruit juice."
Ben Hartigan says the style is traditionally served with a shot of fruit syrup, so 16 TUN is making some special fruit syrups and offering these with each drink so people can create their very own versions of the Hippy Berliner. "We will most likely be making a feijoa syrup and a lime syrup where the sweetness of the syrup and its fruit flavour contrasts with the sharp dry flavours of a Berliner Weiss."
16 TUN is also serving three additional 8 Wired beers on launch day – Flat White on Nitro, Hopwired and Semi-Conductor.
Hippy Berliner is being launched at 16 TUN on Jellicoe Street in Wynyard Quarter from 5:30pm on Friday 5 June.