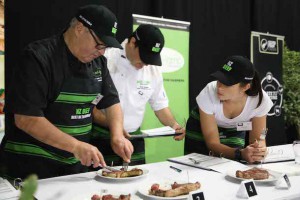 Beef farmers nationwide are waiting in anticipation to see if their steaks will be named amongst the best in New Zealand.
The Beef + Lamb New Zealand Steak of Origin competition received over 300 entries from farmers, retailers, wholesalers and foodservice suppliers hoping to take out the title of the nation's most tender and tasty steak. Entries now go on to be scientifically tested at Carne Technologies with colour and tenderness results determining the top 20 per cent from each class, which will be announced as semi-finalists.
Beef + Lamb New Zealand Ltd CEO, Dr Scott Champion, says the competition is always keenly contested. "New Zealand beef is renowned internationally as being top quality and farmers are justifiably proud of the product they produce. It's the icing on the cake to take out the Steak of Origin Grand Champion trophy", says Champion.
In addition to the breed categories for farmers, there are also categories for retail, wholesale and foodservice suppliers.
Semi-finalists will be announced on Friday 24 April, and will go on to a taste test held at the Hospitality Department at Auckland University of Technology on Friday 1 May to decide which semi-finalists will go on to the final stage of the competition.
The finalists will then be judged by a panel that includes Beef and Lamb Ambassador Chef Marc Soper, Foodwriter Lauraine Jacobs and Head Judge Graham Hawkes at the Grand Final in Palmerston North on Monday 11 May.