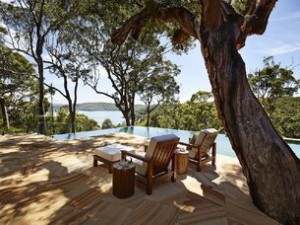 A pinnacle of Australian luxury accommodation and hospitality is reopening this March after a two and a half year hiatus. Pretty Beach House, the four-pavilion hideaway, has been restored to all its beauty offering a personalised experience on the New South Wales Central Coast.
Pretty Beach House is perched on a seven and a half acre promontory of the Bouddi National Park and Broken Bay, just 90 minutes by car or a scenic 20 minute seaplane flight from Australia's gateway airport.
Proprietors of Bells at Killcare Boutique Hotel, Restaurant & Spa, Brian and Karina Barry alongside distinguished restauranteurs, Stefano Manfredi and Julie Manfredi Hughes, will be offering an all-inclusive luxurious escape. Pretty Beach House combines world-renowned cuisine and tailored guest experiences including a 'welcome to country' indigenous smoking ceremony by a Darkinjung elder, mountain bike riding, helicopter day trips into wine country and discovering the glorious waterways on board the property's luxury sports cruiser.
Sydney designer Michelle Leslie has lead the restoration, achieving the right balance between relaxed and impeccable. Original works by Arthur Boyd, Sidney Nolan and John Olsen add to the personal touch of The Main House and exclusive pavilions; Treetops, Bayview, Hideaway & The Retreat.
The Main House remains the soul of the property. Decommissioned railway timber pylons, hand- crafted from 1883, form the structure of the new interior. Locally sourced mud bricks and artisan cut sandstone surround the foundations and Leslie commissioned highly skilled local designers, blacksmiths and craftsman to complete the detailed rebuild.
The atrium-style bar and lounge area houses Manfredi's open plan Ambach Italian kitchen where guests dine on his world class Italian cuisine and look out to the stunning waterways that surround the Bouddi peninsula. All inclusive food and beverages are customised daily allowing guests the option of dining al fresco, eating traditional Italian pizza cooked in the Stefano Ferrara pizza oven or drinking fine wines by the open fireplace. Daily wine tasting with the sommelier is available, as a tour of Brian Barry's extensive wine cellar to select rare old world wines.
Brian Barry says, "Pretty Beach House is the essence of luxury without the pretence. Guests will receive effortless hospitality surround by Australian beauty that remains relaxed and elegant."
Surrounded by ancient Angophora forests and picture perfect waterways, the property was also a meeting place for the indigenous community and owners of the land, the Darkinjung tribe. The property is home to three pieces of Aboriginal rock art that have been dated at 8,000 – 10,000 years.
www.prettybeachhouse.com.au