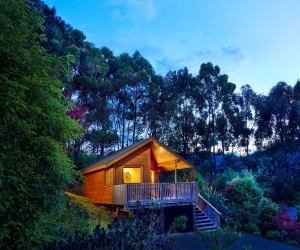 Online travel website Booking.com is predicting huge growth in sustainable travel and is advising accommodation providers to get in early and make the most of the trend.
Following a survey of 36,000 people across 16 countries, including 2,016 in New Zealand, the company anticipate that for the first time more than half of all global travellers will be influenced by the environmental impact of their trip.
Tracey Foxall, Booking.com New Zealand Area Manager said; "Sustainable travel is about to go mainstream. This puts accommodation providers in a unique position to take advantage of this thanks to New Zealand's growing appeal and international reputation as an environmentally conscious country.
"Already we've noticed increasing numbers of accommodation providers putting in the hard work to meet the demands of the sustainable traveller."
Already benefitting is The Resurgence, a luxury eco-lodge in the Nelson Region, near the Abel Tasman and on the border of Kahurangi National Park. The lodge was built using a mix of sustainably sourced and recycled timbers, using passive solar heating and insulated with wool.
Owners Peter Adams and Clare de Carteret-Bisson have planted thousands of native plants to restore and sustain the natural environment and provide a habitat for native birds.
Clare said: "Sustainability is something we're extremely conscious of so designed and built the lodge to cater for travellers just like us. We've noticed growing numbers of people are staying with us because of the measures we've introduced and as a way of reducing their own environmental impact when travelling.
"It's easy for people in the industry dismiss sustainability as something that travellers simply don't care about – we promote eco-tourism and as a result, guests who care will chose to stay with us.  The numbers caring is only going to increase."