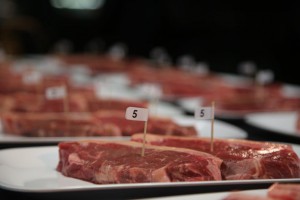 Brendon and Hayley Robinson from Hawera have taken out the Grand Champion title at the 2016 Steak of Origin competition with their Angus X sirloin steak. The Angus X steak was deemed to be the most tender and tasty in the country by a line-up of top New Zealand chefs at last night's Grand Final taste test.
Judges Shaun Clouston; Scott Kennedy; Rex Morgan and Graham Hawkes determined the winner from twenty finalists based on criteria such as aroma, tenderness, juiciness and taste.
Rex Morgan says that having that many quality steaks together is an exciting opportunity for a chef. "Every steak was unique with a different story to tell; the challenge was comparing them each on their own merit," says Morgan.
The competition, sponsored by Zoetis, aims to acknowledge the hard work and dedication of our New Zealand beef farmers. Now in its 14th year the competition is held in high regard by those in the industry.
Beef + Lamb New Zealand's new Chief Executive, Sam McIvor says attending this event for the first time has been a privilege. "We have some of the best product in the world and without our farmers it would simply not be possible, it's important that we take the time to celebrate their successes and their contribution to our thriving industry," says McIvor.
Brendon and Hayley have won $5,000 in prize money and will take home the Beef + Lamb New Zealand Steak of Origin Grand Champion shield.
The Supreme Brand Champion was also announced with Countdown North Island taking home the title and the Processor of the Grand Champion was ANZCO Foods. Nero Restaurant and Amayjen The Restaurant were also announced as joint winners of the 2016 Manawatu Beef Dish of the Year, as judged by local diners over the past three weeks.