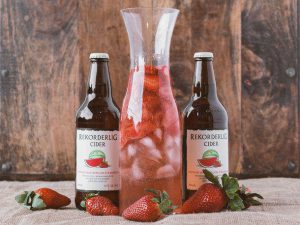 Rekorderlig, the world's most premium Swedish cider brand, has introduced the taste of summer to come with the launch of their latest flavour, Watermelon-Strawberry. Packed with the juiciest strawberries and a burst of watermelon, the scrumptious marriage of these summer fruits make for a refreshing new flavour best served cold.
"We're thrilled to release our latest, most scrumptious flavour in New Zealand and are confident this will be a popular edition to the Rekorderlig family, solidifying our place as the country's most loved fruit cider brand," says Rekorderlig Brand Manager Kate Baars.
Made from the purest Swedish spring water and a fine blend of two mouth-watering summer fruits, Rekorderlig Watermelon-Strawberry is best served over ice with a slice of cucumber or fresh mint.
Rekorderlig Watermelon-Strawberry perfectly complements the seven existing unique and delicious flavours including; Pear, Strawberry-Lime, Raspberry-Lime, Forest Berries, Passionfruit-Lime, Lemon-Lime and Elderflower-Lime. New Zealanders can try the latest Rekorderlig variant now at selected liquor outlets, supermarkets and bars across the country.