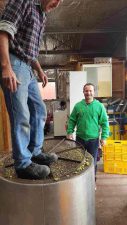 Deep Creek Brewery have used a New Zealand first in craft beer and brewing innovation to create the hoppiest beer ever in the New Zealand market.
Appropriately named Hoppy McHop Face, this double IPA was brewed using the standard brewing process, with hops added at intervals to provide both bitterness and aromatics. But it is the secret ingredient of hop oil added after fermentation that gives you a beer that packs a punch with hops and ABV, coming in at 8.5%.
The hop oil, made from steam distillation, was created in March. It was created using freshly picked Nelson Sauvin hops driven straight to a lavender distiller in Christchurch, creating 500ml of hop oil – AKA liquid gold – which captures the fresh, intense, aromatics and flavour profile that can only be found with fresh hops.
As part of the craft beer community, Deep Creek don't shy away from pushing the boundaries of creativity when it comes to brewing but they are particularly excited about this latest brew.
"We're pretty sure this is the first example of craft beer brewing with fresh hop oil in New Zealand", says Deep Creek founder, Jarred Maclachlan. "The result is a really unique flavour and aroma and for beer lovers that enjoy hoppy beers, this will provide a significant challenge – it's a bit like people who love hot food trying the hottest sauce on the market".
If you're a 'hop head' or a beer lover that is brave enough to test your tastebuds against a hopping intense flavour – then this is the beer for you.
Hoppy McHop Face will be on tap at selected bars in Auckland and Wellington as well as, of course, at the Deep Creek Brew Pubs in Browns Bay, Orewa and Oneroa, Waiheke.