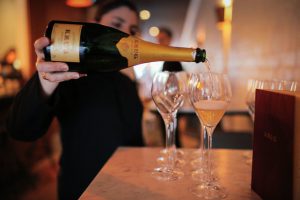 One of the world's best champagnes, Krug, has again teamed up with eateries around New Zealand to redefine after-work drinks.
'Thank Krug It's 5 O'clock' will take place every weekday from 5pm at The Grove, Ostro and Seafarers in Auckland; the Intercontinental in Wellington and Eichardt's in Queenstown, where chefs from each restaurant will create bespoke dishes to pair with a flute (or bottle, if you like) of Krug Grand Cuvee.
"Traditionally only available to purchase by the bottle, having Krug available 'by the flute' is a once-a-year opportunity and a great way to celebrate in style this party season," says Krug Senior Brand Manager, Ali Campbell.
Each year chefs from around the world are tasked to use a unique ingredient to pair with the champagne and this year's food match is egg.
The Grove's Ben Bayly has designed three dishes, including an elaborate take on egg and soldiers, which features chawanmushi and sturgeon caviar.
#TKIF will run until December 31 so there's plenty of time to gather some friends for a classy after-work beverage.
#TKIF #KrugChampagne