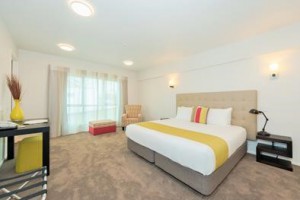 Newly built, eco-friendly Clarion Suites Ambassador in Hamilton is a new addition to the Choice Hotels chain. The Clarion has been designed and built to ensure minimal environmental impact and every detail of the property has been carefully considered to ensure the property is a market leader in eco-friendly accommodation.
The Clarion has 16 luxurious self-contained studio suites, all linked to a state of the art self-sufficient water system. It collects rainwater that goes through a filtration and purification process, and the water is heated by solar powered boilers and fed directly to the rooms to provide an endless hot and cold water supply.
Solar roof panels power in-room radiators and heated towel rails, while waste water is filtered out to a new tank that then feeds the sprinkler system in the property's gardens. LED lighting, double cladding and insulation throughout ensures energy efficiency.
Located in Hamilton's CBD, other facilities include a large outdoor pool, hot tub and BBQ area. There's a covered car park for guests, complimentary Wi-Fi, Sky Guest Select TV, fitness centre, licensed Club Lounge Café and Bar, three meeting and function spaces, and a boardroom for up to 20 delegates.
Clarion Suites Ambassador is owned and operated under the same management as the adjoining Quality Hotel Ambassador.