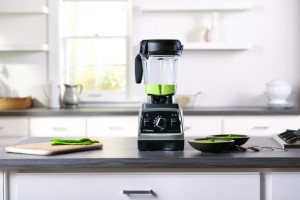 The much-anticipated Vitamix® Professional Series 750 is now available in New Zealand, giving culinary and whole food enthusiasts the ultimate blending experience. Offering five pre-programmed settings, quieter blending, a compact 2L container, full Variable Speed plus a Pulse feature, the Professional Series 750 delivers advanced, high-performance blending in a new generational, sleek and attractive design that fits under kitchen cabinets.
"The Vitamix is so powerful it blends all the skin and all the pulp. This means less prep for you and you get the full nutritional benefit and fibre of wholefoods," says Vitamix enthusiast and nutritionist, Megan May, who uses her Vitamix multiple times a day. "Once you've used a Vitamix no other blender compares. If I could have only one kitchen appliance it would be a Vitamix, which is a key ingredient in creating the beautiful food we make at the Unbakery. No other blender can create smoothies or raw desserts the way the Vitamix can and we have four different models in our kitchen."
The new Vitamix Professional Series 750 boasts features such as five pre-programmed settings for Smoothies, Frozen Desserts, Hot Soups, Purée and a Cleaning cycle, mean consistent results and simple cleaning. The Variable Speed Control adjusts from 0 to high and provides precise control and unlimited processing flexibility. What's more, a fully variable Pulse action can be used alone or in tandem with the pre-programmed settings or variable speed control for even greater flexibility.
Due to enhanced airflow management, the Vitamix Professional Series 750 dramatically reduces noise of the blend by 10 decibels, similar to the Vitamix commercial blenders. The enhanced airflow also improves motor cooling for longer, and more robust blending of even the toughest ingredients. Lastly, the new compact design means the Vitamix Professional Series 750 fits under most kitchen cabinets.
"Vitamix is extremely excited to offer the next generation of blending," said Jodi Berg, CEO of Vitamix Corporation. "Our goal was to deliver a machine our customers can't live without; an advanced blending system that's so useful they want to use it every single day. With the combined power of the Professional Series 750, the ease-of-use by way of its pre-programmed settings and Variable Speed Control, plus a quieter motor, blending has never been better," she said.
The Vitamix Professional Series 750 has a recommended retail price of NZ $1595 and is available in select premium retailers nationwide from 1st May 2015. Visit www.vitamix.co.nz for more information and call 0508 308 102 for stockists.