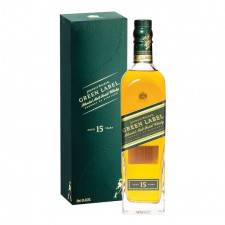 Johnnie Walker Green Label is being reintroduced into the world's number one Scotch whisky's core range globally in response to consumer demand around the world.
Towards the end of last year a limited release of Green Label was relaunched in Australia, but it is becoming a permanent part of the core range this month.
A Diageo Australia spokesperson told TheShout, "Off the back of the successful 'limited time' reintroduction of Johnnie Walker Green Label in 2015, we're excited to announce we're relaunching Green Label into the Australian market permanently from March 2016."
Guy Escolme, Johnnie Walker global brand director, added: "Johnnie Walker Green Label is an exceptional whisky which is a tribute to the craftsmanship of our blenders and their great skill in selecting and blending malt whiskies to deliver a rich, multi-dimensional and balanced flavour profile.
"We have listened to our customers and consumers and we are responding to popular demand to bring it back into our core range. Johnnie Walker Green Label has always had a following and releasing limited volumes of it in the US and Australia this year to mark the tenth anniversary of its first introduction has revealed how much consumers have missed Johnnie Walker Green Label and want to see it back. We're thrilled to be able to respond to that."
Matured for at least 15 years Johnnie Walker Green Label is created using whiskies from the Speyside, Highland, Lowland and Islay regions. The four key signature styles in Green Label are represented by Talisker, Linkwood, Cragganmore and Caol Ila.
Jim Beveridge, Johnnie Walker master blender, said: "The challenge of Johnnie Walker Green Label is to have a wide flavour spectrum from malts matured for 15 years in American and European Oak, ensuring that those flavours really complement each other and work in harmony to create a blend of great complexity which, at its heart, is true to the Johnnie Walker style of big and bold flavours with a signature smokiness.
"Crafting this blend is all about making the aromas more pronounced and vibrant, allowing us to shape a blend that has the depth of character which just isn't possible from one malt whisky alone."