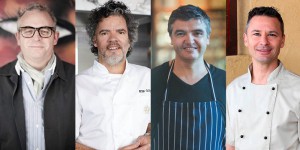 Celebrity chefs Al Brown, Sean Connolly and Nic Watt, along with Peter Gordon's Head Chef Neil Brazier, will be presenting the best of Federal Street's award-winning restaurants at Auckland Restaurant Month's A Taste of Federal Street event on 26 August.
Each chef will prepare a course expressing their personal style and talents and expertly paired with a matching wine. The menu will only be revealed on the night with guests enjoying dishes reflecting each of SKYCITY's signature restaurants: MASU, Depot, Gusto at the Grand and The Sugar Club. Last year's event sold out within 48 hours and this year's event is sure to impress.
The exclusive event will be hosted in Federal Street's multi award-winning restaurant MASU by Nic Watt which continues to impress diners and food critics alike. Seats are limited and tickets are $220 per person. MASU was recently awarded two hats in the 2015 Cuisine Magazine Good Food Awards, with Depot also being awarded one hat. Depot also took out the Supreme Award in the Metro Peugeot Restaurant of the Year 2015 and all four restaurants were listed in Metro Magazine's Top 50 Restaurant list for 2015.
Food lovers who miss out on A Taste of Federal Street can still savour the delights of SKYCITY's top chefs during Heart of the City's Auckland Restaurant Month with The Sugar Club, Federal Delicatessen, Depot, MASU by Nic Watt, The Grill by Sean Connolly, Gusto at the Grand, Bellota and Orbit 360˚ Dining each offering a special menu (ranging from $25 – $65 per person) during August.
MASU will also be presenting the final event in their Winter Wine Series on 13 August, which will feature a five-course dinner, comprising a selection of individual and shared plates, paired with wines from Marlborough's Seresin Estate. Winemaker Clive Dougall will be in attendance to talk through the wines throughout the evening. There are just 17 seats available for this intimate event and tickets are $180 per person.
The Auckland Restaurant Month menus, a full list of events and tickets are available at www.heartofthecity.co.nz