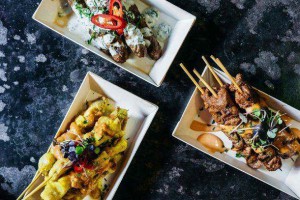 Auckland's CBD just got its latest after work haunt and music venue with the opening of new inner city bar Underpass at 1 Lower Hobson St on March 16.
Re-imagined and re-designed from the ground up, Underpass delivers a sleek municipal hangout reminiscent of the Berlin Bar scene…from after work drinks and eats, to late night entertainment with the tunes to boot. It's a free house, stripped back and laid back with a satisfying mix of craft beer (Panhead and Liberty to name a couple) along with a selection of more recognised mainstream beers, wine and cocktails.
The Underpass concept was developed by branding specialist String Theory, in collaboration with Jason Dempsey from Flathead design, who lead the design and construction. They've stripped the space back to its shell, raising the roof and adding steel and concrete as a reference to the fact the space was formerly a mechanics workshop then an Auckland City Council Car park before its current iteration as a bar.
Four 3.5 tonne concrete culverts double as private booths to one side of the bar which also feature American Oak top steel tables and an American Oak top bar. The outdoor deck area features a range of steel tables and macrocarpa blocks with a concrete canopy, creating an urban feel.
Music plays a major role in the Underpass story. A Martin Audio system ensures Downtown's growling traffic clamour matters nought in the underground venue, where live music acts and DJs are scheduled for the late night crowd. The space is acoustically dynamic with added perforated pegboard and perforated steel sheets, which allow absorption of sound into acoustic baffling.
In keeping with its dynamic downtown location, Underpass features its own singular take on world street food. Fresh, quick and evolving dishes, the menu is designed to appeal to the after work crowd and late-night brigade. The opening menu showcases a selection of tasty and easy to eat street-food inspired bites. Think chicken satay skewers infused with Asian herbs and spices, and grass-fed beef skewers marinated in Spanish smokey paprika with homemade brava sauce.
And to satisfy more generous cravings, poached meatballs in tomato sauce, Ruakaka paua fritters with lemon aioli and micro greens, fish sliders with homemade mayo and watercress, and Marino lamb-served on a parsnip puree with a mixed herb salsa are on offer. Amazingly, all menu items are priced under $10.
"We wanted to do something different, something no-one else has done in Auckland," says Showcase director Richard McCabe. "After their award-winning work on 16Tun, it was a no-brainer to turn to String Theory and Jason Dempsey. "We're delighted with the final result which has delivered an unpretentious and understated offer – catering perfectly to those simply wanting an after work catch up with friends and colleagues to those wanting to revel in the late night music scene".