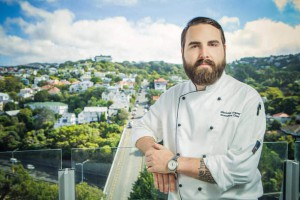 The winners of last year's New Zealand Vegetarian Dish Challenge are calling for all chefs to enter the 2016 competition and reap the benefits.
The creators of the winning dishes for the 2015 breakfast, lunch and dinner categories believe the Vegetarian Dish Challenge provides an unrivalled opportunity to not only learn new skills but attract new customers, providing a winning combination for both chef and restaurant. 
Marc Soper, Executive Chef at Wharekauhau Country Estate, Palliser Bay said he used the competition to excite his team about preparing delicious and novel vegetable dishes. 
"Winning the Vegetarian Dish Challenge last year has really raised awareness of the potential of vegetables.  We approached it as a learning and team building initiative which encouraged my team to explore new ways of preparing vegetables, and particularly for the more junior team members, the competition introduced them to new cooking techniques.  A lot of our guests are vegetarian or vegan so we are continually raising the bar on our plant based meals."
Winner of the breakfast/brunch category MacLean Fraser, Executive Chef at Artisan Restaurant at Bolton Hotel, views the Vegetarian Dish Challenge as an essential award to enter if you are serving plant based meals in your restaurant.
 "Entering and winning the Vegetarian Dish Challenge last year has been hugely rewarding on both a personal and business level.  Being able to display the award in the restaurant says very clearly that we are serious about providing our vegetarian customers with well thought out and delicious meals.  Out of all the industry awards, I see the Vegetarian Dish Challenge as one of the more important ones.  It is the only vegetable competition and if you're going to cater for vegetarians you need to keep expanding your knowledge and creativity to deliver tasty dishes that your customers will come back for."
Simon Green, Executive Chef at Trinity Wharf in Tauranga attributes winning a Vegetarian Dish Challenge award to increased business.
"What's better than winning prizes?  Getting new clientele and recognition for the restaurant.  As a result of winning last year's competition we have attracted new customers, some of whom were vegans struggling to find a restaurant offering something more than a mushroom risotto. The coverage from receiving an award meant customers knew where they could get quality, award winning vegetarian food, and a number of our guests said they came to specifically try the winning dish.  We even had one non-vegetarian couple who requested the dish to share as a side dish to their steaks!"
Entries are open until 30 April and the judges are looking forward to selecting this year's finalists and winners.   Geoff Scott, chef/owner, Vinnies and Andy Gibb, Chef tutor at Singapore's Nanyang Polytechnic, are  returning to judge the 2016 competition and are joined by Chef and Life Health Foods product developer, Bevan Gray and Hospitality NZ's Operations Manager, Tracy Scott.  The team is led by Head Judge, Mark Wylie.
The three winners, announced in July, will each be awarded a New Zealand Vegetarian Dish winner plate, a Samsung 1100w-semi commercial programmable microwave and an Air New Zealand mystery weekend voucher worth $1200.
Now in its fifth year, the New Zealand Vegetarian Dish Challenge is sponsored by Life Health Foods, nationwide wholesale food distributor, Bidvest, Choice Catering Equipment and Vegetables.co.nz.
For more information on how to enter the 2016 Vegetarian Dish Challenge visit : http://www.vegetables.co.nz/competition/2016VegetarianDish