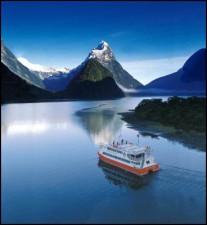 New Government announcements will unlock further value from the Chinese visitor market, benefiting New Zealand's economy, the Tourism Industry Association New Zealand (TIA) says.
TIA Chief Executive Chris Roberts congratulated the government for picking up on several initiatives identified in the tourism industry's Tourism 2025 growth framework. The Prime Minister and Tourism Minister John Key has announced that Chinese working holidaymakers will be able to work for the same employer for up to six months.
"Workers with Chinese language skills are highly sought after by many tourism employers, to enhance the visitor experience for Chinese travellers. The current three-month restriction has been a significant source of frustration for tourism businesses," Mr Roberts says. "TIA has lobbied hard for this extension because it means employers can gain more value from the on-the-job training they give Chinese working holidaymakers.
"Chinese visitors will have a better experience, encouraging them to stay longer and spend more, and then spread the word about New Zealand as a friendly, welcoming destination when they return home."
Mr Roberts also welcomed the announcement of new visa initiatives for high value/low risk
Chinese visitors. TIA has been advocating strongly to the government for more streamlined visa processing for high value Chinese visitors. It is one of the key growth opportunities identified in Tourism 2025.
"The Tourism 2025 goal of almost doubling total tourism revenue to $41 billion a year can only be achieved by the public and private sectors cooperating to remove barriers to growth and seizing opportunities," Mr Roberts says.
"Smart schemes to target high value Chinese travellers to get the visas they need as quickly and easily as possible will make New Zealand more internationally competitive for this crucial market, which has grown quickly to become our second biggest source of visitors after Australia."
Spending by Chinese visitors is currently forecast to more than double to $1.7 billion by 2020.