Each month Hospitality Business puts the spotlight on four new book releases. This month see the glorious designs from internationally acclaimed New Zealand kitchen designer Mal Corboy and the fully updated 32nd edition of The Gold Book which showcases the best Australian wines to drink this year.
AUSTRALIAN WINE VINTAGES 2015
AUTHOR: ROB GEDDES
RELEASE DATE: SEPTEMBER 1, 2014
RRP: $39.99
PUBLISHER: GEDDES A DRINK PUBLICATIONS
Fully updated 32nd edition of The Gold Book showcases the best local wines to drink this year. After tasting an extraordinary 8000 wines for this edition, Master of Wine Rob Geddes reveals which local drops are worthy of purchase.
Rob Geddes is a wine industry veteran, the author of seven books on wine and currently works as a presenter and freelance journalist. Based in Sydney, Rob was admitted to the Institute of Masters of Wine in 1992, becoming the third Australian member of this prestigious body. He currently tastes more than 3000 wines a year.
In the fully revised 32nd edition of the best-selling book Australian Wine Vintages (known as The Gold Book), Geddes provides readers with the definitive guide to selecting the best quality local vintages in any price range.
Aiming to showcase the top 10 per cent of wineries that consistently deliver quality, the popular pocket-sized book (also available as an App) includes detailed tasting notes, vintage quality and indicative prices for more than 6000 wines from 317 of Australia's best wineries, with 19 new wineries included in this edition.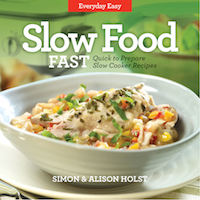 SLOW FOOD FAST
QUICK TO PREPARE SLOW COOKER RECIPES
AUTHORS: SIMON AND ALISON HOLST
RELEASE DATE: INSTORES NOW
RRP: $14.99
PUBLISHER: HYNDMAN PUBLISHING
No matter what our age or lifestyle we are all busy and want tasty, healthy meals with as little fuss as possible. Slow food gives us that. Throw a few ingredients in the slow cooker before you head out for the day and come home to the wonderful aroma of a healthy fulfilling meal. And where better to get those recipes from than the Everyday Easy duo of Simon and Alison Holst.
Until the early 90s, neither Simon nor Alison had used a slow cooker. They thought slow cookers were just another passing fad, but thought they should give them a try, and they quickly became slow cooker converts.
Everyday Easy Slow Food Fast has recipes chosen especially because they are very easy and very quick to prepare. The 'through and go' recipes can be prepared in minutes, with everything added to the slow cooker at once so you can just let the machine do its thing then come back to the kitchen some hours later and enjoy the delicious results.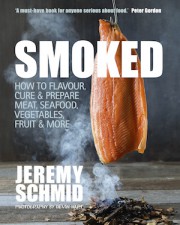 SMOKED
HOW TO FLAVOUR, CURE & PREPARE MEAT, SEAFOOD, VEGETABLES, FRUIT & MORE
AUTHOR: JEREMY SCHMID
PHOTOGRAPHER: DEVIN HART
RELEASE DATE: INSTORES NOW
RRP: $45
PUBLISHER: NEW HOLLAND
Following the success of Bangers to Bacon, Jeremy Schmid takes it a step further with Smoked and demonstrates the wide scope of this age-old art of preserving food. The enticing aroma of wood smoke is hard to beat but as Jeremy shows, you don't necessarily have to cook outdoors or use expensive equipment to create that sweet salty smoked flavour.
Smoking units can be created for the stove-top, in a barbecue, or in a cabinet outside. Schmid describes the difference between hot and cold smoking, explains wood fuels and spices to blend and balance the right level of smoky flavours, and uses step-by-step photos to show the process.
Individual sections on meat, fish and seafood, fruit and vegetables, dairy, eggs and nuts all begin with technique, then lead on to showcase the delicious recipes Schmid has developed using smoked foods. With his help, make your own mouth-watering pastrami, or try Smoked Snapper Pie, Beer-crusted bread with Smoked Butter and even Roast Apricots with Smoked Mascarpone for dessert.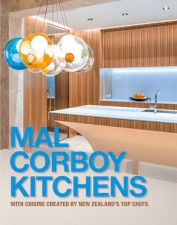 MAL CORBOY KITCHENS – IN YOUR LIVING ROOM
THE ULTIMATE IN KITCHEN PORN FOR THE FOODIE AND DESIGN LOVER
AUTHOR: MAL CORBOY
RELEASE DATE: INSTORES NOW
RRP: $40
PUBLISHER: MAL CORBOY
Internationally acclaimed New Zealand kitchen designer Mal Corboy is breaking new ground with the launch of his coffee table book, which showcases the best of his award winning kitchen designs paired with recipes inspired by his work.
Corboy, who has honed his specialist set of skills and continually pushed boundaries to create challenging, dynamic kitchens, has teamed up with Simon Gault and his network of highly skilled chefs to marry exclusively created recipes with Corboy's kitchen designs in an innovative new book, thought to be a world first.
"I designed and built a kitchen for Simon Gault and when we were developing the concept for the book we thought it would be an incredible addition to have a recipe from Simon to sit alongside his kitchen", says Corboy.
"Simon was so keen he then invited chefs from the likes of Fish, Jervois Road Steakhouse, Pravda and Shed 5 to be inspired by the kitchens and create recipes to sit beside the featured spaces; 11 of which are kitchens that have not been published or seen before", says Corboy.
BE IN TO WIN!
Email thislop@intermedianz.co.nz by midday Friday August 29 with a physical postal address and go in the draw to win a copy of Mal Corboy Kitchens – In Your Living Room. The winner will be notified by mail and announced in the September issue.