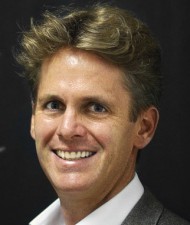 Villa Maria has appointed its first Chief Operating Officer. Reporting to Sir George Fistonich, Richard Thomas will be responsible for the sales and marketing, winery and bottling operations, restaurants, cellar doors and events.
Thomas has a lengthy career of brand marketing and advertising roles that commenced with a Philosophy degree in the UK. From the UK, Thomas worked in New Zealand, New York, Singapore, Hong Kong and Guangzhou for companies including Saatchi & Saatchi, Ogilvy & Mather Group and DDB Worldwide for clients including Volkswagen, Honda, Unilever, General Mills, Arnotts Biscuits; NZ Dairy Foods, Fonterra, DBS Bank; ANZ; Bank of China; Tower Insurance; NZ Telecom; Singapore Airlines, McDonalds, Nokia and Hamlet Cigars.
During his travels, Thomas ran a small advertising agency in New Zealand called Generator New Zealand in 2003 and became President of Global Accounts & Chief Integration Officer for DDB Group Asia Pacific and Acting CEO of DDB Group Japan based in Hong Kong.
Most recently he created his own marketing, brand and communications consultancy business working with Moet Hennessy Diageo China, prior to joining Villa Maria.
"I'm very excited and motivated to now be joining the Villa Maria team," said Thomas.
"I love and enjoy wine and have been lucky enough to be exposed to fantastic wine experiences, both in New Zealand since I have been going there with my Kiwi wife and now Kiwi kids, and in Europe with my family over the years since they lived in both France and Spain. But I am definitely not a wine connoisseur, more a wine consumer, which is some of what I hope to bring to the role whilst I am learning from Sir George and Alastair Maling MW amongst others.
"I am joining a fantastic business, Villa Maria has very strong brands as key drivers of the success of the highly awarded wines we sell. With Sir George at the head of the business, I will be lucky enough to be working with one of the true architects and visionaries of the NZ wine industry, and I hope to learn a lot from him and the wider team at Villa Maria.
"Ultimately the key to success is to help the people inside the company maximise the great existing value in the brands, products, teams we already have, whilst driving growth in key markets globally.
"Working with both major multi-national corporations and smaller local or family run enterprises has fuelled my passion for business. What I enjoy is seeing the totality of a business, and looking to provide leadership, strategy and actions that drive it forward, of which marketing is just one key component."