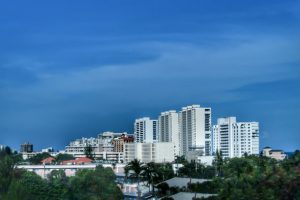 The third year of Taste of Waldorf Astoria, a global culinary programme in partnership with the James Beard Foundation (JBF), is well underway with just two more challengers to produce their programmes. The search for the next iconic culinary masterpiece continues with a new challenge and five hand-selected JBF Rising Star Semi-Finalist chefs are collaborating with select Waldorf Astoria destinations around the globe.
This year's programme features a specific challenge – to transform happy hour into the "Fifth Hour," a contemporary update to the time-honoured ritual using innovative themes that mirror the sophisticated and modern style of each property. To expand bar offerings beyond traditional drinks and appetizers, each chef pair is challenged to create two small bites that pair perfectly with an original cocktail and mocktail. To create a truly unforgettable food and beverage experience, the overall presentation from plate to palate will be a key component of the judging criteria.
"After two successful years of Taste of Waldorf Astoria, we are thrilled to add a new element to the competition by challenging chefs to not only create an iconic dish, but to reinvent the cocktail hour," says John T. A. Vanderslice, Global Head, Waldorf Astoria Hotels & Resorts. "We are confident that the collaboration between our Executive Chefs and the James Beard Foundation Rising Star Chef Semi-finalists will create bold and modern new bar and bites pairings, offering a new food and beverage experience to our guests."
Taste of Waldorf Astoria five chef experiences have been and will be held at the following properties:
Boca Raton Resort & Club, A Waldorf Astoria Resort
December 5 – 9, 2016
Waldorf Astoria Executive Chef: Andrew Roenbeck, Executive Chef at Boca Raton Resort & Club, A Waldorf Astoria Resort.
An integral part of the Resort & Club for 25 years, executive chef Andrew Roenbeck oversees the entire $70 million culinary operation, including 13 on-site kitchens and bakeries with 16 area chefs who run the individual food and beverage outlets.
JBF Rising Star Semi-Finalist Chef: Sara Hauman, former Head Chef at Huxley (San Francisco, CA). Until recently, Chef Sara Hauman was the head chef of Huxley, earning numerous accolades including a three-star review from the San Francisco Chronicle, Eater Young Guns 2016 and Zagat "30 Under 30," among others. She is currently working on opening a new restaurant where she will be a chef and partner, slated to open in San Francisco in June 2017.
Trianon Palace Versailles, A Waldorf Astoria Hotel
December 11 – 17, 2016
Waldorf Astoria Executive Chef: Frédéric Larquemin, Executive Chef of Trianon Palace Versailles, A Waldorf Astoria Hotel.
Joining the Trianon Palace Versailles culinary team as executive chef in November 2016, Chef Frédéric Larquemin brings a wealth of Michelin-starred experience to the hotel's food and beverage offerings. He has trained with Chef Henri Charvet at Comte de Cascogne, Chef Michel Bourdin at The Connaught, Chef Gordon Ramsay at Claridge's and Chef Alain Ducasse at Hôtel de Paris, The Dorchester and Plaza Athénée. Most recently, Chef Larquemin was the executive chef at IDAM, an Alain Ducasse restaurant in Qatar for more than two years.
Waldorf Astoria Executive Chef: Ryker Brown, Executive Chef at Waldorf Astoria Park City.
While his culinary career began in California, Chef Brown has spent most of his career working in mountain resort destinations including Sundance Mountain Resort, Promontory Ranch Club, Yellowstone Club and Big Sky Resort. Joining Waldorf Astoria Park City in June 2014, Brown's focus on natural ingredients has enhanced Powder's local product use, such as Heber Valley Cheese and the use of herbs and honey from Waldorf Astoria Park City's backyard garden and beehive.
JBF Rising Star Semi-Finalist Chef: Alex Bois, formerly Head Baker & Fermentation Expert at High Street on Market (Philadelphia, PA) and High Street on Hudson (New York, NY)
A baker with a degree in biochemistry, Alex Bois' funky breads have helped earn High Street widespread acclaim, and have made him a two-time finalist for the James Beard Rising Star Chef award, among other accolades. After three years with High Street Hospitality Group and the opening of several restaurants, Alex recently moved on to pursue his goal of opening his own bakery.
Waldorf Astoria Ras Al Khaimah
Waldorf Astoria Executive Chef: Rudolf W. Segers, Executive Chef at Waldorf Astoria Ras Al Khaimah
With more than 20 years' experience working in some of the world's finest kitchens in Germany, England, United States of America, New Zealand, United Arab Emirates and Saudi Arabia, Chef Segers brings his passion for international cuisine to his current position as executive chef of Waldorf Astoria Ras Khaimah.
JBF Rising Star Semi-Finalist: Maximillian Petty, Chef/Owner of Eden Hill Restaurant (Seattle, WA)
Gaining recognition and experience working for renowned star chefs including Jose Andres and Michael Landsberg, Chef Maximillian Petty's culinary style and execution has earned him accolades and a reputation for inspired and imaginative dishes. In September 2015, Petty and his wife/business partner Jennifer opened their first restaurant, Eden Hill, in his hometown of Seattle.
Grand Wailea, A Waldorf Astoria Resort
Waldorf Astoria Executive Chef: Ryan Urig, Executive Chef of Grand Wailea, A Waldorf Astoria Resort in Hawaii.
Ryan Urig is executive chef at Grand Wailea, A Waldorf Astoria Resort, overseeing the culinary direction and menu development for nine restaurants and lounges, and banquets for Maui's leading hotel. A graduate of Scottdale's Culinary Institute Le Cordon Bleu Program, his passion for the island's freshest ingredients infuses his menus with produce and proteins found in Hawaii.
JBF Rising Star Semi-Finalist Chef: Irene Li, Chef & Co-Owner of Mei Mei Restaurant Group (Boston, MA)
Working with her siblings and partners Andy Li and Margaret Li, Chef Li owns and operates the highly-successful vehicular Mei Mei Street Kitchen and brick-and-mortar Mei Mei Restaurant in Boston. Since launching in 2012, the unexpected family business has received accolades including Eater Boston's "Restaurant of the Year" and StarChefs Rising Star Concept Chef Award.
JBF Rising Star Semi-Finalist Chef: Bradley Kilgore, Executive Chef of Alter (Miami, FL)
Recently named Food& Wine's "Best New Chef," Chef Kilgore is a well-recognized Miami-based chef with more than 10 years of experience working at fine dining restaurants, including Chicago's L2O, Alinea and Boka. In Miami, he worked at Azul and most recently was the executive chef at the J&G Grill, Jean-Georges Vongerichten restaurant in Bal Harbour. Since opening Alter in 2015, the restaurant has received numerous accolades including four stars from the Miami Herald, Eater's Restaurant of the Year and a semifinalist in the James Beard Foundation's Best New Restaurant award category.
"In the spirit of James Beard, a champion of American cuisine, we are delighted to once again partner with Waldorf Astoria Hotels & Resorts, an iconic brand that has made numerous notable contributions to America's culinary heritage," says Susan Ungaro, president, James Beard Foundation, "We are looking forward to giving our Rising Star Chefs semifinalists a global perspective, collaborating with Waldorf Astoria's Executive Chefs worldwide to create a new definition of the cocktail hour experience."
The JBF chefs will visit their selected property for several days, spending time with the Waldorf Astoria Executive Chef inside and outside the kitchen, visiting local markets and producers, restaurants or off-the-beaten-path locations for inspiration.
Each participating chef pair will demonstrate their "Fifth Hour: Bar + Bites" combinations in New York in February 2017 for a panel of culinary luminaries who will ultimately decide the winning pairing. Following the event, the final Taste of Waldorf Astoriapairing will launch alongside new "Fifth Hour" programming at each of the brand's 26 hotels and resorts worldwide, introducing an unexpected new happy hour experience to today's luxury travelers.
2015 Taste of Waldorf Astoria winners Benoit Chargy of Waldorf Astoria Bejing and Erik Bruner-Yang of Toki Underground, Maketto and Honeycomb were awarded top honors for their Jing Roll, a Napa cabbage wagyu beef roll with black mushroom, hoisin sauce, salted duck eggs and purple sweet potato. The dish joined the 2014 winning dish, Celery Root Risotto Alla Waldorf, and a lineup of iconic signature dishes that have been created at Waldorf Astoria, including Eggs Benedict, Red Velvet Cake, and the Waldorf Salad.
In June 2016, Waldorf Astoria Hotels & Resorts unveiled Taste of Waldorf Astoria Unforgettable Experiences, a collection of experiential gastronomic packages that allow guests to embark on their own Taste of Waldorf Astoria adventures around the world. Additionally, each Waldorf Astoria Hotel & Resort offers a curated 3-course dinner for guests to enjoy their own Taste of Waldorf Astoria, served in a distinct location on property. Guests may book these experiences now by visiting www.tasteofwaldorfastoria.com.
Follow each chef's on-property journey and dish creation by following @WaldorfAstoria on Facebook, Twitter, and Instagram using the hashtag #TasteofWaldorf. For more information about Waldorf Astoria Hotels & Resorts, please visit www.waldorfastoria.comor http://news.waldorfastoria.com.