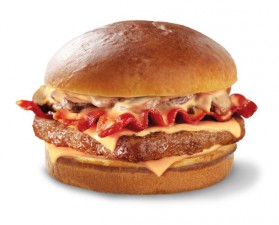 The bun innovation continues at Wendy's with the release of the new Portabella Mushroom on Brioche today.
The French-style brioche bun is an exclusive recipe, developed in conjunction with local artisan breadmakers Pandoro to the specifications of Wendy's Hamburgers' international division.
Soft, buttery and made by hand with real eggs and butter, the gourmet bun is like those popping up at trendy eatieries including Auckland's Burger Burger, Masu and Cassia, but now at a quick service restaurant price.
The burgers are made with Quality Mark fresh beef or whole tender chicken breast, award winning manuka smoked bacon, rich portabella mushrooms, natural Colby cheese slices, and a warm, creamy cheese sauce.
The latest in Wendy's bread innovation line-up, the brioche follows the launch of the hugely popular pretzel bun lauded by U.S. industry source Burger Business as the "most talked about burger bun" and "most important burger" of 2013, and by QSR Magazine as 2013's "it" ingredient.
With the pretzel now off the menu for the time being, Wendy's New Zealand CEO Danielle Lendich believes Kiwis will love the brioche even more. "This is a really premium, artisanal burger, loaded with flavour and fresh, quality locally sourced ingredients."
The gold standard of hamburger buns, says Lendich, the brioche features a soft rich dough and delicious moist texture. "The odd upmarket eatery or burger joint is doing the brioche here, but we're taking ours nationwide and serving it at a competitive price."
Lendich says the local burger market is becoming increasingly sophisticated as Kiwi palates also become more discerning. She says the locally-owned family business would continue to look to global culinary trends for inspiration for further product development.
Other recent innovative additions to the menu have included salted caramel desserts, and burgers featuring chipotle and habanero sauces.
The Portabella Mushroom on Brioche will be available at Wendy's restaurants nationwide for a limited time from Monday 18 August starting at $8.90 for beef or $9.90 for chicken.