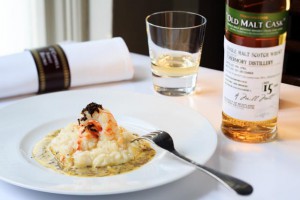 For those who appreciate the finer things in life O'Connell Street Bistro's Whisky and Truffle tasting menu is a must have experience.
On 29 September, the renowned inner city eatery is presenting a whisky and truffle four course menu giving diners the opportunity to enjoy an extremely rare 15 year old malt scotch.
Under the expert guidance of whisky aficionados Sam Snead and Nigel Kelly from The House of Whiskey, guests will be able to match some extraordinary malt beverages with a compelling bistro menu.
The beverage list includes a particularly rare Tobermory 15 year-old Old Malt Cask whisky bottled at 50% abv – one of only 289 bottles available world-wide.
Others on the list are Springbank 15 year-old whisky from a very old school distillery in Campbeltown on the isthmus of the Mull of Kyntire and BenRiach, a 16 year-old Sauternes Cask whisky from a Morayshire distillery built in 1898.
The special bistro menu from proprietor Chris Upton is built around the celebrated truffle fungus accompanying courses designed to showcase the rare ingredient.
Starter scampi and truffle supports a main course of roasted pheasant and truffle followed by the bistro's own bread and butter pudding – each matched with a premium malt. Espresso and chocolate rounds off the menu.
The Whiskey and Truffle Dinner kicks off at 6pm in the O'Connell Street Bistro Corner Room and limited numbers of tickets are available at $190 per person.
To make a booking, call O'Connell St Bistro on 09 377 1884 or email info@oconnellstbistro.com.