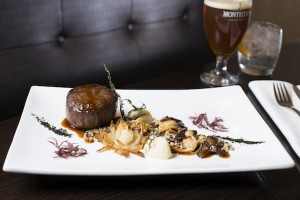 Hamilton's Victoria Street Bistro has been crowned the coveted title of the 2014 Monteith's Wild Food Challenge winner with its dish 'Wild Daisy'.
Both the judges and people's choice favourite, it was the display of beer matching expertise paired with extraordinary fare that took Victoria Street Bistro to the top this year.
"The 12 finalists were all very strong contenders, each in their individual ways. However, Wild Daisy was the stand-out dish due to Head Chef Andrew Clarke skilfully melding unusual ingredients such as smoked oyster and sea chicory into his dish and successfully partnering them with a complex beer – the Double Hopped IPA," says Head Judge Kerry Tyack.
Wild Daisy was up against 122 fierce competitors including One Highly Strung Pig, Deer to Indulge and Hare of the Dog. The victorious feast showcased an acute understanding of wild flavours featuring sous vide wild beef with smoked oyster cream and textures of sea chicory, foraged native mushrooms and a pearl onion flower.
"The judges felt that in choosing the Double Hopped IPA with its strong bittering components that makes it dominate the palate, Clarke set himself a Herculean task.
However, by incorporating salty, savoury and sweetish ingredients, he ensured the entire spectrum of taste sensations were balanced and the result was a delicious harmony that made the combination of beer and food sing together rather than compete," commented Tyack.
"Victoria St Bistro went that half a step further necessary delighting the judges with its unique and considered take on surf and turf. After four times as a finalist in previous years, this win proves that sometimes it takes a few attempts to get the match just right."
Each dish in the competition is judged on its creative use of local ingredients, the balancing of flavours, perfectly pairing the dish with a Monteith's beer or cider, and the chef's precise execution.
In 2014 the most popular meat was venison, followed by pork and wild boar, with the most prevalent pairing being the Monteith's Dopplebock Winter Ale, followed by the award winning Southern Pale Ale.
"We're exceptionally proud to be named this year's winner of the Monteith's Wild Food Challenge. We relish the fact that New Zealanders are open to trying new and exciting dishes and they are enjoying their feast with a perfectly matched beer. This is the perfect culinary competition which facilitates Kiwis adventurous spirit," concludes Andrew Clarke, head chef of Victoria Street Bistro.