Nelson College edged out two very close competitors to take the National Secondary Schools Culinary Challenge Title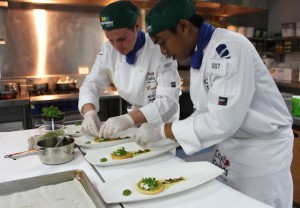 for 2014.
Nine teams from all over NZ competed in an intense 90 minute cook-off at the Manukau Institute of Technology's Culinary School last Friday in front of a judging panel, made up exclusively of senior industry chefs.
Judges started by giving each team 100 points and then removed points for technical faults.  The winner was chosen and medals awarded based on the total points each team was left with.
Nelson College students, Chakkapong Klahan and Louis Clark just beat Auckland's Long Bay College and Dunedin's Queen's High School to take the 2014 title but all three schools took away a Gold medal.
"The difference between the gold medals and what ultimately decided the winner was actually very little. The winning team 'worked like industry professionals, showcased some excellent skills and executed their dishes using the sponsor's product in a fresh and innovative way. We were extremely impressed by their work', said chief judge, Mark Wylie.
Event organiser and major sponsor, City & Guilds confirmed that it was the first year the Nelson/Marlborough region had entered the competition.
City & Guilds Pacific Regional Manager, Glenn Fulcher oversaw all 10 events, "What a final. Nine teams battled for the national title and battle they did. The food was amazing and up there with any event I have been involved in. Each school had planned and executed their dish in the best way possible during a heated competition.  It makes me very proud to be part of an event that helps identify the future stars of the industry I love so much. If these guys are the yardstick then I can safely say the future is looking great".