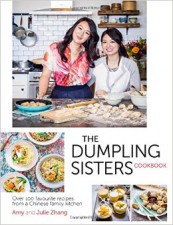 Amy and Julie Zhang have been entertaining and educating their thousands of followers on YouTube with their recipes for deliciously easy homemade Chinese food – now The Dumpling Sisters Cookbook brings you more of the recipes and advice that those fans have been clamouring for.
The recipes are structured as to give a gradual introduction to Chinese dishes, beginning with the simple; Best Ever Fried Rice, and working up to the more elaborate Cracking Five-Spice Roast Pork Belly, and are interspersed with insider tips and tricks. There is also a focus on Chinese culture and eating etiquette.
Amy and Julie write with wit and gusto – they are the perfect cooks to take any food lover on a journey to discover real Chinese home cooking. The Dumpling Sisters are an engaging and charismatic duo who have referred to themselves as the 'young, Asian, and (much) less hairy Hairy Bikers'.
Author: Amy and Julie Zhang
Release date: Available now
RRP: $55
Publisher: Hachette New Zealand Ltd
WIN: To go in the draw to win a copy of The Dumpling Sisters Cookbook email your full name and address to thislop@intermedianz.co.nz
Entries close 5pm Friday 10 July 2015