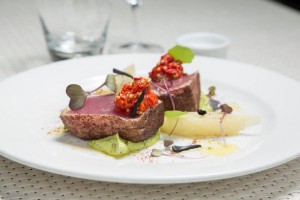 Now in its fifth successful year, Restaurant Month has more momentum than ever, with a vast line-up of gastronomic events, menus and personalities catering to all tastes and budgets this August.
Auckland's preeminent dining event, this years it promises to give Kiwis a taste of some of New Zealand and the world's best chefs and sommeliers, the chance to savour over 100 special menu offers and access to over 30 foodie-inspired events. 
The month-long celebration, created by the Central City Business Association – Heart of the City, will see the return of big annual events including The Chef Dining Series, Wine AKL and the very popular "Street Eats", plus a new dinner-by-bike event and new sustainably-focused menus from participating restaurants.
With the full line up yet to be announced, event organisers Lemongrass Productions can confirm that some of Australasia's culinary heavyweights have been enlisted. This group of chefs will team up with the best Auckland talent for specialist dining events at selected restaurants held each Wednesday throughout the month.
Over 100 central city restaurants are on-board with tantalising, great value menus, with many also participating in the jam-packed schedule of events this year.
Sponsorship and Events Manager for Heart of the City, Jane Stewart, says that in five years, Restaurant Month has demonstrated a strong return for the CBD in both a financial and social sense. "By virtue of its ability to bring diners from Auckland and beyond into the central city by offering exciting menus at great price points for the month of August, we've really been heartened by this event's ability to bring a buzz to the restaurant scene during a quieter winter month," she says. "This year, with the programme we're set to implement, we think the impact will be even greater, which is positive news for businesses and foodies alike.
"We've got some exciting events this year and believe that once again Aucklanders and visitors will embrace the industry's passion, skill and enthusiasm by getting out and making the most of all things edible," adds Stewart.
Full details, including Restaurant Month menus, will be launched on www.heartofthecity.co.nz from July 1, 2015 so that diners can start planning their foodie fixes for the month. Further details about the international chefs and all the events will also be released at that time.
"There really is something to suit every taste and budget so we hope to see diners out in great numbers to support the restaurants and enjoy many a memorable experience," concludes Stewart.