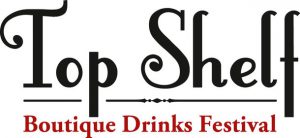 Top Shelf is a trade-only boutique drinks festival within Fine Food New Zealand starting this weekend. Featuring some of the industry's biggest local and international brands it is an unmissable event for all those in the industry.
There will be Masterclasses and presentations from leading liquor experts such as Yvonne Lorkin and Don Kavanagh and more.
Nielsen will be presenting a key discussion on the nature of changing consumers and its impact on liquor producers while our own John Oszajca will talk about the future of beer.  For our hospo friends there will be special presentations on food and liquor matching from Michael Donaldson and Tom Jarvis from Wine-Searcher.
Don't' miss FIGHT CLUB!  Top Shelf's own very special mixologist smackdown each day at 1pm.
There will be something of interest for anyone involved in the liquor industry, from retailers through to bar and restaurant owners.
You can visit Top Shelf and Fine Food New Zealand free by registering at www.finefoodnz.co.nz and use the promo code FFNZ4