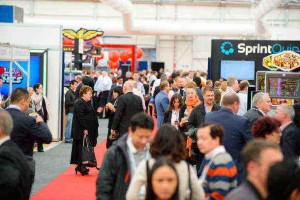 The Australasian Gaming Expo on 11-13 August at Sydney Exhibition Centre at Glebe Island is one of just four major global gaming industry trade shows annually. At 15,600 square metres it's also one of the largest trade events in Australia and easily the largest gaming event.  A finalist in last year's EEAA Awards for Excellence, the event attracts exhibitors and visitors from around Australia and internationally.
Owned and operated by the Gaming Technologies Association, the Gaming Expo is the ultimate showplace for new gaming technologies for casinos, clubs and hotels.  The biggest attraction is the new machines and games from poker machine suppliers, who look forward to August each year to unveil their best products.
The Association's primary members Ainsworth, Aristocrat, Aruze, Bally, Ebet, IGT, Konami are world's-best at their trade and the Gaming Expo presents a great opportunity for their customers from around the region to experience the latest, cutting-edge gaming design and technologies.  And with 17 new casinos scheduled to open in the Asia-Pacific region by 2020 – including two in Australia – now is the time for suppliers to engage their customers.
New gaming technologies are not the only attraction, with more than 165 exhibitors (including 31 for the first time) proudly showcasing Audio Visual equipment, ATM Equipment, Building Services, Cash Handling & Equipment, Consultancy Services, Entertainment, Financial Services, Food and Beverage, Furniture, I.T., Interior Design & Fitout, Marketing Services, Membership Management, Paging & Communication, Point of Sale Systems, Retail, Security, Signage & Displays and Staff Uniforms.  So there's definitely something for everyone in the hospitality world.
Visitors to this year's Australasian Gaming Expo will be transported from Darling Harbour to the event on a complimentary Sydney Harbour ferry cruise, or they can ride on shuttle buses from Central Station, Pyrmont or Sydney airport, all free of charge.  Limited car parking is available at the venue and taxi services are available to and from the event.
There they'll see over 750 poker machines and hundreds of truckloads of signage and equipment which is moved in to Glebe Island, installed, connected, tested, used and compared by the most demanding critics and then moved out again – all in only a few days. 
Last year well over 2,300 visitors attended the first day, with 2,500 on the second day and 1,000 on the third day.  They came from every Australian State and Territory, along with a big contingent from New Zealand and international guests from America, Europe and around the Asia-Pacific region.
97% of visitors surveyed last year saw the Expo as an opportunity to see new products and technology, while 99% said the exhibition stand quality was good or excellent and the event itself was satisfactory or excellent.   One quote was "the best trade show I have been to!"
Visitors who attend the Australasian Gaming Expo are eligible to win a trip for two to the Global Gaming Expo in Las Vegas– including airfares from Sydney and 5 nights at the luxurious Palazzo Venetian Resort and Casino.  One trip for two will be drawn on each day of the Gaming Expo.
The event website includes the interactive floor plan which is updated in real time, along with a list of exhibitors which can be sorted by company name, stand number or category – and provides contact details for each exhibitor and their website address for further information.
Exhibition entry is complimentary to gaming industry executives, courtesy of the Gaming Technologies Association.  The exhibition is open from 10am on Tuesday 11, Wednesday 12 and Thursday 13 August and closes at 5pm on the Tuesday and Wednesday (closes at 3pm on the Thursday).