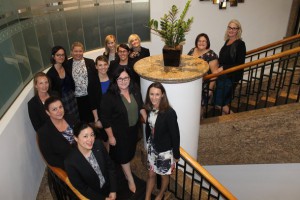 AccorHotels' commitment to achieving greater gender diversity with females represented in top positions across the company was on show last week, with 14 high-potential female leaders graduating from AccorHotels' 2015 Strategic Leaders Development Program (SLDP).
Participants of the program were identified as being 12-18 months away from progressing to their first General Manager position or next senior role. To accelerate this, all 14 participants took part in a six-month development program which included behavioural, cognitive and structured personal and business development plans. The group also attended virtual webinars with experts in the field of project planning, guest experience, animating food and beverage and managing owner's expectations.
AccorHotels Pacific Chief Operating Officer, Simon McGrath, said "We are genuinely committed to gender equality and strengthening our female talent across the business and will continue to promote talented women to senior leadership roles as one of our top priorities.
"Since the launch of SLDP in 2014, eight of AccorHotels' female leaders have successfully achieved a General Manager position, and a further five program participants have been promoted to a more senior position.
"We're edging closer to appointing our first Indigenous female General Manager, and we continue to strive toward our goal of having 50 percent female General Manager's in Australia, (currently 37 percent) within the next 18-24 months."
The SLDP is part of AccorHotels' diversity strategy. The program focuses on developing female leaders to enrich their skills in the areas of leadership, personal development, strategic planning and analysis, and business improvement.
At the graduation ceremony, held at Pullman Quay Grand Sydney Harbour, all participants reported back on group projects and creative ideas to further invest in AccorHotels.
This SLDP program, which aims to strengthen AccorHotels' talent pool of 10,000 employees and pave the way for greater diversity and gender balance, is an extension of AccorHotels industry-leading work in advancing Indigenous causes through its Indigenous Employment Program and Reconciliation Action Plan.