Are you struggling to adapt to the takeaway and delivery requirements for your business with the current pandemic restrictions?
The requirements for takeaway and delivery come with their own unique challenges – often in keeping product at the right temperature and at the best quality for the customer.
Stoddart has foodservice products that will assist in the transition from dine in to take away and delivery, to ensure that your customers receive food that is at the highest quality and at the safe temperature required.

Culinaire Vertical Hot Cupboards, Banquet Carts and Warming Drawers
Culinaire has several products that will keep food hot whilst waiting for delivery staff to collect or for phone in takeaway orders.
The Culinaire vertical hot cupboards are designed for back of house, to hold food that has been heated above 65 °C and feature adjustable height rails. Banquet carts serve a similar purpose, with a slightly different heating system.
The Culinaire Warming Drawers are compact and easy to fit anywhere in a kitchen, that has an excellent long-term food holding capacity for food that has been heated over 65 °C. New sizes have been introduced in the Warming Drawer range to accommodate takeaway bags.

CookTek Thermal Delivery Systems
CookTek Thermal Delivery Systems are used by many businesses that deliver hot food products. These include systems for pizza delivery and for other types of food container sizes.
The pizza delivery system includes 16" and 18" pizza bags, a FlashPak which is inserted in the pizza bag, and a pizza bag charger. The same type of system is applicable for the Thermacube bags – both small and large.
The bags are heated in less than 3 minutes and are designed to hold hot meals at temperatures over 68 °C for extended periods of time.
Metro MightyLite Pan Carriers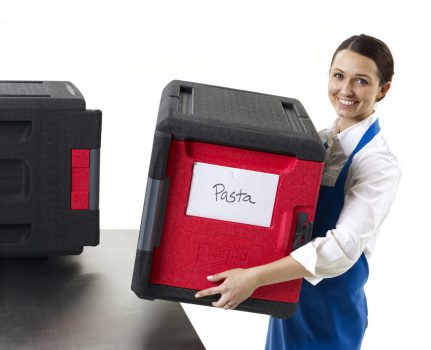 The Metro MightyLite pan carrier range serves as a multi-function food carrying system, for both hot and cold food items. The MightyLite range is ultra-light and durable, with an insulation that keeps food safe for 5+ hours. Integrated handles make lifting and carrying easy.
We have stock of these items and are ready to supply to your business. Get in contact with the Stoddart New Zealand office and we can assist with your business' needs at this time.
Call Stoddart on 0800 79 1954 or email info@stoddart.co.nz to find out more.